The Public Ministry confirmed on August 12 the arrest requests against at least 23 people involved in this case.
The Attorney General of Venezuela, Tarek William Saab, said this Friday that his office maintains more than 20 arrest warrants with a red alert from Interpol against people who have usurped the positions of the Board of Directors of the company Monómeros Colombo Venezolanos SA, located in Colombia and a subsidiary of the state Petrochemical company of Venezuela (Pequiven).
Saab indicated on Twitter, regarding this case, that the Venezuelan Public Ministry ratified on August 12, 2022 the request made to the International Police (Interpol) to 23 arrest warrants on red alert, based on accusations made by his office on February 28, 2020.
"This investigation, promoted by the Public Ministry, remains active, identifying other participants in the transnational criminal plotSaab said about the company, which belongs to the Venezuelan State.
3) Said investigation promoted by the Public Ministry remains active, identifying other participants in the transnational criminal plot #Justice

— Tarek William Saab (@TarekWiliamSaab) August 19, 2022
The prosecutor added that those involved in the taking of Monómeros are wanted by the Venezuelan authorities for the crimes of usurpation of functions, money laundering and criminal associationaccording to the decision of the First Court of Control in matters of terrorism.
The controversy in Monomers
Monómeros —which is based in the city of Barranquilla, on the Caribbean coast of Colombia— has been at the center of binational controversy in recent years, after it was taken over in 2019 by the government of Iván Duque, who ceded it to Juan Guaidó, the former deputy who proclaimed himself "interim president" of Venezuela.
Guaidó appointed a "new board" and took control of the company with the support of Duque. The company was considered the second oldest active of Venezuela abroad, only behind the Citgo refinerytaken in 2019 by the US and also delivered to the former opposition deputy.
Since then, the Venezuelan government has demanded the return of that petrochemical plant and has denounced that since the company is in the hands of Guaidó, a robbery and embezzlement continuation of your funds. Currently, Guaidó's record as the alleged president of Monómeros is the Venezuelan Guillermo Rodríguez Laprea.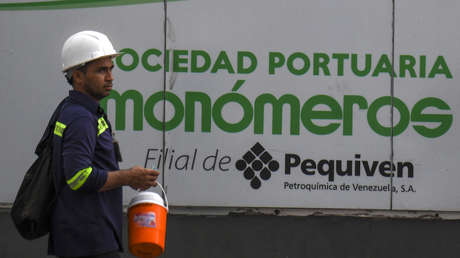 Expressing his interest in resolving the controversy, the president of Colombia, Gustavo Petro, has said that the situation with Monómeros it is a complex issue that "is not easy" to solve.
To make a decision, added Petro, "the legal forms" that the company currently has must be reviewed and study the intricate "sanctions system" that the US government imposed against Caracas, "which is still in force," and that permeates the company for being part of the Venezuelan oil industry.


Source: RT