The president, Pedro Castillo, had assured last week that his wife was willing to hand over her passport as a guarantee that she does not plan to leave the national territory.
The Special Team of Prosecutors against Corruption of Power (EEFCP) of Peru requested 36 months of impediment to leave the country against the first lady of the nation, Lilia Paredes, who is being investigated under accusations of alleged crime of criminal organization and money laundering. assets, the newspaper El Comercio reported on Monday.
The fiscal requirement, to which the Peruvian media had access, also seeks that the measure falls on the Paredes brothers, Walter and David Paredes Navarro, and the businessman Hugo Espino, released last week after collaborating with the investigation.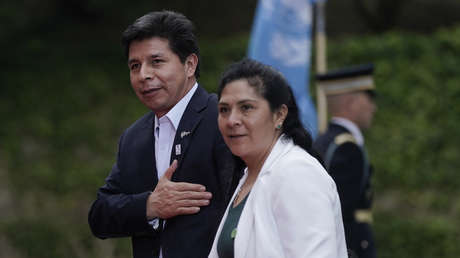 In this way, the Prosecutor's Office seeks to extend the term to try to demonstrate with evidence that Paredes coordinated an alleged criminal network dedicated to the illicit delivery of millionaire public works tenders. Meanwhile, the defense of the first lady insists on her innocence.
Last Friday, the president, Pedro Castillo, had assured that his wife is willing to hand over her passport to show that she has no intention of leaving Peru at any time and that "she has to submit not only to justice, but to demonstrate her innocence".
The investigation carried out by the EEFCP maintains that those involved in the aforementioned network, including Castillo himself and a series of businessmen, would have "benefited and managed to acquire more than six million soles" (close to $1.5 million) in the contracting of public works for various municipalities.
Source: RT