The Mexican president considers that it was a "soft coup" strategy, like those implemented in countries such as Brazil, Bolivia and Argentina.
The president of Mexico, Andres Manuel Lopez Obrador, regretted this Thursday that the elites of Peru harassed Pedro Castillo from the beginning of his government until he was removed from Congress. Despite this, the president affirmed that his fall left a lesson for left-wing Latin American politicians.
"We are very sorry for what happened because since he won legally, legitimately, Pedro Castillo was the victim of harassment, of confrontation; his adversaries, especially the economic and political elites of that country, did not accept that he governed," Lopez Obrador said at a conference morning.
"I what I imagine is that they already had everything to remove himImagine, the legal precept 'moral incapacity' (for which he was vacated) is in the Constitution, and when he feels that they are going to remove him, he makes the decision to disappear Congress, because that is what precipitated his removal and they gave the argument, in quotes, because they become very constitutionalists, very respectful of the law to remove him," said the Mexican president.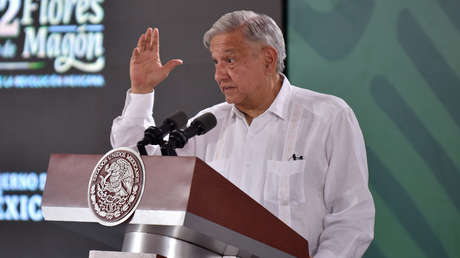 "Soft Hits"
Lopez Obrador described what happened with Castillo as a "soft coup" strategy, which would have had the support of the elites and some of the media. For the Mexican president, this method was used at the time in Brazil, Bolivia and Argentina, against Luiz Inacio Lula da Silva, Evo Morales and Cristina Fernandez de Kirchner, respectively.
"They are soft blows, it is no longer military interventionit is already going with the control of the information media that are managed by the oligarchs of the countries, undermining legal and legitimately constituted authoritiesespecially if they are people who come from the town or who want to do something for the benefit of the people and do not belong to the elites," the president explained.
It is within this framework that, according to Lopez Obrador, "smear campaigns" are implemented to magnify mistakes made. "The media continue to be instruments to manipulate and justify acts contrary to democracy. This happened in Brazil, it just happened in Argentina, now it's Peru," he said.
Thus, the Mexican president affirmed that the lesson is that one must "govern for the people"without trusting opinion leaders or the political class that seeks to get closer to "the owners of the information media" and "intellectual pimps [permisivos]".
Mexico offered asylum
In the framework of his morning conference, Lopez Obrador acknowledged that he ordered the Mexican Embassy in Lima to open the doors to Castillo for eventual asylum. However, the former Peruvian president was detained by the Police when he was going to the diplomatic representation.
Source: RT