"The special military operation will continue," the Kremlin spokesman said.
Kremlin spokesman Dmitri Peskov on Tuesday condemned the repressive activities by the Ukrainian military against civilians in the Kharkov region, which in recent days has been the scene of the kyiv counter-offensive.
"Regarding the locals of the Kharkov province, then, indeed, according to the information that reaches us, there are now a lot of punitive activities there outside the rules. people are tortured. This, of course, is outrageous. The special military operation will continue," the spokesman said.
Meanwhile, Vitaly Ganchev, head of the civic-military administration of the province, declared this same day in an interview with RT that "many people" who wished to obtain Russian citizenship, but could not evacuate in the face of the kyiv counter-offensive now "are in grave danger".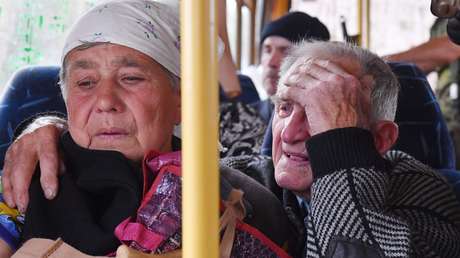 "It doesn't depend on whether these are teachers who passed retraining courses for the Russian education system, or whether they were employees of the forestry sector or public services. Ukrainian nationalists don't careThey will exterminate practically the entire population that lived under our rule in one way or another, they will say that they are all traitors," Ganchev said.
The representative indicated that in the territories retaken by Ukraine "they flourish" looting and killing by the Ukrainian military. In particular, he mentioned the city of Kupiansk, where, according to his information, foreign mercenaries shoot civilians.
Kyiv threats
For his part, the advisor to the Ukrainian Presidency, Alexei Arestovich, indicated on Tuesday that "there will be no feeling for collaborators and occupantsAlong these lines, he assured that Ukrainian citizens who decided to receive Russian passports voluntarily or those who supported the Russian military will be punished. "And the best punishment is jail for treason," the official wrote in his Telegram account.
"Those who have been forced to take a passport, forced to obtain it for a pension or for other reasons will not be punished. But this they have to determine the investigating authorities and the courts," he specified.
Source: RT