President Gustavo Petro, together with Ivan Velasquez and the high military commands visited the children who are hospitalized in the Military Hospital of Bogota.
The President of Colombia, Gustavo Petro, together with his family, the Minister of Defense, Ivan Velasquez, and the high military commanders arrived this Saturday morning at the Military Hospital, located in Bogota, to visit the four indigenous minors who were found the day before after being missing for 40 days in the Amazon.
In his statements from the medical center, Velasquez assured that the children are in "acceptable" conditions, that they still cannot eat food and that the doctors are working to hydrate them. "They are out of danger, what is required is to stabilize them"he added.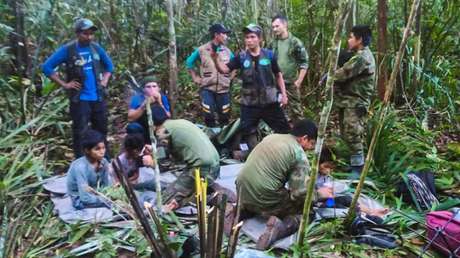 He also highlighted the "courage" and "leadership" of the greatest of the children, Lesly Mucutuy, 13, who took care of her younger siblings and thanks to whom "they were able to survive […] with their care, with the knowledge of the jungle". He also acknowledged the indigenous communities that participated in the search for the children, the military forces, the Joint Command of Special Operations, Family Welfare, as well as the Civil Aeronautics and the Victims Unit, which "were attentive to all needs."
For his part, the doctor and major general, Carlos Rincon Arango, indicated that the four minors have nutritional commitment, especially the smallest, Cristin Neriman Ranoque, who completed a year in the jungle, but reiterated that "conditions that put life at risk are ruled out." She added that They will remain hospitalized "between two or three weeks".
Meanwhile, the president shared several images of the visit on Twitter and stressed that the rescue was possible due to the "meeting of indigenous and military knowledge". "I believe that this is the true path of peace. Here is a new Colombia. That is life before anything else. The objective that unites us is life," she wrote.
The meeting of knowledge: indigenous and military. The meeting of forces for a common good: indigenous guard and the military forces of Colombia. Respect for the jungle. Here a different path for Colombia is shown: I believe that this is the true path of Peace. Here is a… pic.twitter.com/Xl77iArFa6

— Gustavo Petro (@petrogustavo) June 10, 2023
Lesly Mucutuy, Soleiny Mucutuy, 9 years old; She has Noriel Ronoque Mucutuy, 4 years old; and Cristin Neriman Ranoque Mucutuy, were declared missing on May 1, when the plane they were traveling in crashed in a jungle region in the department of Caqueta. In addition to the minors, there were three adults on the aircraft, including the mother of the infants and the pilot, who they were found dead two weeks after the accident.


Source: RT