At the same time, the Prime Minister of Poland declared that Warsaw would be willing to give kyiv these planes, although in coordination with NATO.
US President Joe Biden has spoken out against sending F-16 fighters to Ukraine. Asked this Monday by journalists at the White House about the possibility of such delivery, the president answered with a resounding "No".
On the other hand, Biden neither confirmed nor completely ruled out the possibility of undertaking a trip to Eastern Europe on the anniversary of the start of the conflict in Ukraine. "I'm not sure," he was heard to say in a video spread by journalists covering events at the White House. Responding to an additional question, the president noted that he plans to take a trip to polandbut still does not know when, collects CNN.
On the same day, Polish Prime Minister Mateusz Morawiecki said that Warsaw is ready to hand over its US-produced F-16 fighters to kyiv, but only in "full" coordination with NATO. For his part, the head of the Ukrainian Presidential Office, Andrei Yermak, noted that efforts to obtain several units of F-16 "continue." "We have positive signs from polandwhich is willing to deliver them to us in coordination with NATO," the senior official wrote on his Telegram account.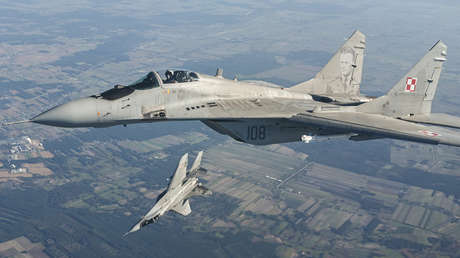 This Monday, during a press conference in The Hague (Netherlands) together with the Dutch Prime Minister, Mark Rutte, the French president, Emmanuel Macron, did not rule out the sending of French combat aircraft to Ukraine. However, he listed three conditions for such an eventual handover, including for kyiv to guarantee that it would not use the planes for attacks on Russian territory.
Meanwhile, Rutte emphasized that "there is no taboo", stressing that the delivery of F-16 aircraft by his country"it would be an important step", although for the moment the Dutch government has not received any official request from kyiv. "If this happened, we would consider it, we would see with our allies what the situation is," he remarked.
Meanwhile, Germany has said that the issue of combat aircraft is not on the table. "The question of fighter planes not even considered. I can only advise Don't get into a constant bidding war when it comes to weapons systems," German Chancellor Olaf Scholz said in an interview for the daily Der Tagesspiegel published on 29 January.
Discussions surrounding the possibility of sending fighter jets to kyiv gained momentum at the official level and they are in the media spotlight after the commitment of several countries, such as the US, Germany or Poland, among others, to equip the Ukrainian Army with tanks Abrams M1 and different variants of leopard.


Source: RT