"This is the first time in the history of networks that one form of content can go super viral on all platforms," said Mr. Beast, the youtuber most popular in the world. "It's never been like this before now and I don't hear anyone talking about it," she adds. That incredible form of content is vertical video, the explosion of which has been unforeseen and unprecedented but also flawless in the last three years.
Spotify has just announced that its app will also be based on this format. And its founder, Daniel Ek, is not shy about giving it importance: "It's the biggest change for Spotify since the introduction of mobile phones," he said in his presentation. In just two years, all the main social networks have created a specific space for vertical video: Instagram, Facebook, Snapchat, YouTube, Twitter, Reddit and now Spotify too. They all have a special interface to jump from video to video, apart from their usual screens. Hence, Mr. Beast says that it is the first time that the same piece as it is can get millions of views on different networks. There will be more and more sums like this: same video, all platforms.
In that list of apps, obviously, the one that has been the great promoter of this avalanche is missing: TikTok. Its explosion during the pandemic has been the great cause that vertical video has gone from being a controversial and minor genre to being almost dominant on mobile. Although it is the main cause, it is not the only one.
This is the list of four possible causes given by Raul Ordonez, a digital marketing consultant and trainer with a TikTok account of 700,000 followers: vertical video is the natural format of mobile phones, cameras have improved a lot, they are very short pieces of content and obviously the powerful TikTok algorithm. "I like to talk about the addictive surprise that TikTok has because it has broken the dictatorship of traditional algorithms, for example Facebook or Twitter, where the same content from the same people with the same opinions tended to appear," says Ordonez. "TikTok, on the other hand, is Disneyworld," he adds.
This new combination has caught on across all platforms in a short time: "I don't think it's an accident," says Gustav Söderström, co-chairman of Spotify, referring to how his platform will go vertical video to discover new songs, adding : "The world has not arrived by chance at this kind of self-reproducing letters. It has been an evolution. It is the most effective way to quickly understand and evaluate a lot of content." Swiping from one full-screen video to another is the most efficient way to discover interesting and new content on mobile, even more so if it's music.
An incredible viralization
The success of the format has brought another juicy novelty for the creators: levels of viralization never seen before: "When in 24 hours you get 35,000 followers [en TikTok], which are more than I have been on Twitter in 15 years, you see that there is something strange there, "says Ordonez. It is something that happens on all platforms: "On Instagram, any traditional publication such as a carousel, a photo, a story, reaches approximately 20% of my followers. While the reels [el nombre del formato video vertical en Instagram] not only do they reach 95% of my followers, but they multiply the reach to people who are not followers by about seven times eight", he explains.
This explosion would itself be extraordinary. But it is even more so if we take into account that until recently vertical video was reviled. That contempt even a popular name: vertical video syndrome (SVV), which on Google gives millions of results, most of it from a decade ago. On YouTube there is a video from 2013 that perhaps launched this denomination: "Say no to vertical videos. Vertical videos arise when you hold the camera incorrectly. Your video will end up looking like ass ", they say in the video. It has 1 million views and one of the first comments, from 1 year ago, says: "I come from the future and now vertical videos dominate the entire internet. It's all the fault of the evil tiktok king. Even YouTube adapted to it.
Ordonez remembers that time of contempt: "At first there were quite a few divergent voices. Years ago someone recorded a video vertically and that was a sacrilege, they called them rednecks, it was almost tripping users, and now the opposite is almost the case and it is everywhere". That critical past still has consequences today.
The 21-year-old video game YouTuber Borsiis believes that vertical videos have not reached their potential: "Vertical video is still perceived as junk content, what is left over. You make a long video, properly and you take clips for the short content. Or you are bored at home and you record a story with a TikTok filter and you already have it. People have that perception because a lot of creators do that and a lot of vertical viral videos are stupid. A lot of people use it to easily go viral with videos that aren't very well worked on," he says.
But for that same reason, he still has a long way to go: "As an exclusive creator of vertical videos, I can say that the work is not appreciated. I've got 500,000 rs. I got to add 100,000 in 5 days, a very high growth. I always found the typical comment of 'bah, it's just that they're shorts' [el nombre en YouTube para los videos verticales], like belittling him ", he says. But Borsiis does not have a strategy of summarizing direct or long videos. "Someone else makes you a long proper video and I make five short proper videos for you. I squash the long video into a short one. I take a 4-5 minute video and do it in 40 seconds. This is what I see that people are still not doing," she adds.
For Borsiis, vertical video comes to occupy a space that has not been explored and that the new generations are going to ask for more: a kind of explanatory microcontent. Just as Spotify believes that it is the best format for discovering new songs, Borsiis believes that it is for explaining specific topics well: "We have an increasingly impatient society. I myself am the first to put a long video faster. From a 5 minute tutorial I want to see the 3 seconds that interest me. So it's better to make that video in a 30-second format that if you make it entertaining they'll see it in its entirety, instead of making 5 minutes so that 3 seconds are seen. It is easier to retain in a shorts", Explain.
The image problem
Brevity and a less labored feel are two possible benefits of vertical videos. But the critics are right about something simple: you see less image, the composition is less rich. This does not imply that it does not have a space or a format with which to play: "I do not think we have lost the capacity for expression," says the photographer and trained Rodrigo Rivas. "In any case, we have won because there is an additional format. The horizontal video is now consumed in a more calm way and the vertical, although it can be done very well technically, as a general rule it tends to have a fast consumption, closeness, it does not last more than a minute. It is a social change ", he adds.
People who are dedicated to images have been living with this difficult question for a couple of years: brands or clients want everything (horizontal for the web or TV and vertical for networks) and in the recordings they must strike a balance to include shots and resolution accept both options. Some people record with grid viewfinders that allow you to see what will be seen in a possible vertical video. Others directly record with two cameras.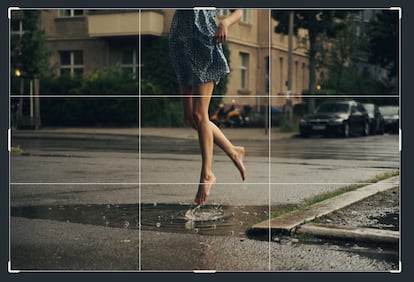 "Vertical video is a real trend," says Irene Cruz, director of photography. "I started making vertical video approximately in 2019″. That first time he recorded horizontally and then had to cut, a complicated practice that generates controversy in the trade. Since then she has adapted, although the instructions are still not very clear: "As I already know, it left a lot of air everywhere, because I don't usually edit. I have gotten used to recording in a big way", she says, adding: "It is a very difficult way for me to work. I already work with him grid, which is like a grid that I have in the camera to know how it will later be able to be cropped. It is a useful resource. The client wants it all and you are a person with a brain and very little time", he adds.
You can follow THE COUNTRY Technology in Facebook and Twitter or sign up here to receive our weekly newsletter.
Subscribe to continue reading
Read without limits


Source: EL PAIS