In March 2022, Ari Geli (Barcelona, ​​20 years old) made his debut with the Pune Panthers of India. He was the international signing of the team in one of those 3×3 basketball leagues that allow the professionalization of this Olympic sport. However, his contribution stopped a few minutes into the first game: after a drive to the basket, in the fall and after scoring, he tore the cruciate ligament in his left leg. In just a few hours, away from his family, he had to decide whether to have an operation in that country and, incidentally, what to do from now on with the huge community of followers in his networks who had been encouraging his meteoric progress for months. True to that relationship, he continued to record himself with his cell phone at his worst. Looking at the camera, just before the anesthesia was injected for the intervention, he lowered his mask for a moment and said: "After this, nothing will be able to with me. I'll tell you now."
A year later, Geli founded Panthers3x3, his own club that will compete on the Catalan and Spanish circuits, and will play several tournaments in Europe this summer. She is its CEO, its coach, its props and, of course, one of its stars: "I manage the budget for the trips, the tokens, anything now my mother has started to help me. My dream is for him to quit his job and end up being alone with me." In October 2021, the two argued when the player left her job selling sneakers in a store: "my TikTok views had started to skyrocket." In those clips, she was winning one-on-one against guys her age who were more than a head taller than her. "I've been playing against them all my life because on urban courts, there are still fewer girls. For me it was part of the training, but on TikTok it just exploded. At the end of last year, the platform, where she has 2.2 million followers, chose her as Best Reference Creator in Sports in Spain, despite the fact that the main content of his channel revolves around a discipline other than football and in a still emerging modality, 3×3 basketball.
Ask. Why did you pivot from traditional basketball to 3×3?
Answer. It was a sum of things. On the one hand, I started to get bored in training. On the other, what revolves around this modality outside of sport (music, fashion, culture) attracted me because it provided me with something richer. And because I love being on the street and, often, it was easier to have it three for three than to wait for more.
Q. Does it better fit your lifestyle?
R. Totally, because it allows me to dedicate myself to content creation.
Q. Because Ari Geli is?
R. Basketball player and content creator.
Q. Now he runs a club. How is your new day to day?
R. The priority is still training. To compete at the level I want to compete at, the demand is high and it all starts there and taking care of myself. But it is true that I am finding the gaps for the creation of content and the management of everything that now has to do with Panthers3x3.
Q. In the foundation of the Panthers3x3 club, how much need is there to create that opportunity for yourself in Spain?
R. There is something to that. But beyond my career, the goal is to improve the impact of 3×3 basketball and, in general, women's basketball in Spain.
Q. What time is it?
R. After a year that has been very hard due to the injury, I feel that I am in a moment of many changes. Changes on a personal, sports and work level. But they are joys and I feel as if I am receiving a certain reward for how hard I have had to work on it in recent months.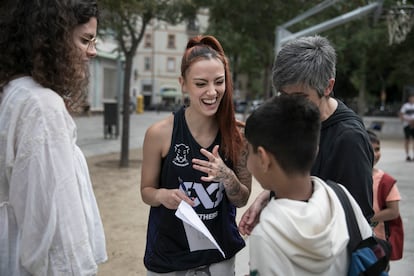 Q. After the injury in India, his content changed. You no longer trained on the court, you couldn't do challenges or duels. And that caused her to start talking more about herself and to show herself beyond the 3×3 player. The repercussion also exploded and the recognition of TikTok was the consequence of it. How do you feel about that twist?
R. I didn't do it fully consciously, but now I know how much it helped me. Recording myself in the ambulance, in the hospital, showing all the recovery… It helped me and I discovered that I was helping other people in other processes. Injuries are something linked to sports practice and showing that side of being bad, getting up with a bad face and showing it, also has to do with the responsibility of those of us who have a voice in the networks and we should not say that everything is idyllic all the time. time.
Q. But that opens a bridge to their privacy. What red lines are marked?
R. I try to show my transparent self, both when I'm well and when I'm not so well. But there is a red line to my personal life that I reserve for myself. That drastic change humanized me in front of people. Until then, everything was more sporty, but I think it was good for my fans, because they were able to connect with me much more.
Q. What scares you about all this?
R. Stop being a person for the rest. And I am going to explain so that it is understood: for example, now I feel that I cannot go by public transport because people behave differently. People start recording me, they take pictures of me with flash, puts videos of me with volume… These are things that I think they do without evil, but they generate anxiety and make me feel uncomfortable. Now when I go to see basketball in any pavilion I miss half the game because they ask me for a lot of photos; and that's fine, but I also want to watch the game while it's in progress. Anyway, that's what I mean, and it's a fear that I'm beginning to develop. It matters a lot to me that people continue to see me as a person and not disassociate myself from that because of my presence on networks.
Q. What is the best thing that the sum of 3×3 basketball and the nets is giving you?
R. Travel! And meet and live with players from other countries. Competing in Thailand, the Philippines, getting to know Nepal, being in several European countries or going to Miami. And do all this, all the time, surrounded by players I admire, visit, and train with. I can not ask for more.
Q. He has had many injuries. How has that pain and those processes affected you? Have they changed you?
R. A lot. Injuries have changed who I am, and I am grateful to have lived through these situations. The phrase 'you don't know what you have until you lose it' is the one that I have had the most in my sports career. And I have it even when I finish a workout. So now I have enormous energy and a lot of gratitude. I am more aware, more competitive and I better value everything that happens to me.
Q. Next year the Olympic Games are held in Paris. Do you see Spain fighting for the medals?
R. Outright yes. She is going to compete very well. we have some gamers.
Q. Is being on that team your dream?
R. Yes, what could I tell you… I don't know if at the Games, but I would like to represent Spain in international competitions.
Q. 3×3 basketball player and content creator. Where would she like to be in a few years?
R. I would like to have competed in other countries, meet more foreign players because it is a priceless experience. Also that Panthers3x3 has established itself as a club, with also a men's team and lower categories, and that it has grown enough in networks to continue having fun and making all this viable. Reach the levels of references such as Ibai or Nil Ojeda.
You can follow THE COUNTRY Technology in Facebook and Twitter or sign up here to receive our weekly newsletter.
75% discount
Subscribe to continue reading
Read without limits


Source: EL PAIS