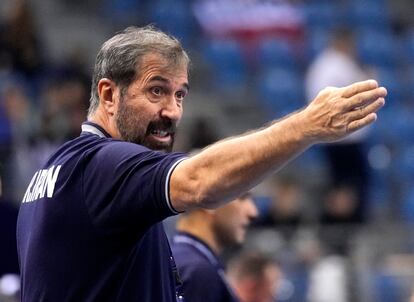 Veselin Vujovic (Cetina, Montenegro; 61 years old) continues to watch Spanish television and his mobile is set to Spanish. His time at Asobal (from 1988 to 1993 at Barcelona and until 1995 at Granollers) after making history with Metaloplastika (1980-88) is still very much alive in his mind. His name appears on the altars of handball history. He reached the peak as a player, his tough and indomitable character is still remembered, and as a coach he has accumulated an extensive career that has now taken him to Iran, Spain's rival this Monday (8:30 p.m., Tdp; Pol Valera joins the concentration for the injured Ian Tarrafeta) at the close of the first phase of the World Cup, where he aspires to win the round. An old school guy who goes straight.
Question. Why did you sign for Iran?
Reply. After breaking up with Vardar due to an accident with a player, because sometimes I have a difficult character, I wanted to spend time with the family, but the offer came to me. I spoke to friends and they told me that the potential is enormous. And what I have found are very disciplined and talented players. What was I going to do until summer? I signed for 10 months and now we are negotiating. They offer me money that I cannot earn in Europe, although you enjoy the high level there. There are also things that make me think. There were political problems, the internet fails and the organization is not good. Sometimes they lack balls or clothes. That makes me nervous. But the people are very friendly. They say that a guest is a gift from God.
Q. How much does the political situation in the country influence you?
R. If I'm honest, I never saw a problem on the streets, only what appears on television. People got the moral police removed and this has given them a break. I see my calmer players. But the truth is that politics does not influence my decision much. If I think about this, I go crazy. I dedicate myself to training.
Q. Do your players have an in-depth knowledge of your playing career?
R. Every day they come to me with a video or a play of mine. Also with some fight in which I participated, as always. I see them proud to have me.
Q. Are there players like you?
R. When they compare me with Duvnjak, Karabatic or Sagosen, I always answer that the Mercedes is the best car, but the model from 30 years ago has nothing to do with the current one. I don't see players of my characteristics. I wasn't the best at anything, but my defense, counterattack, vision and shooting average was very high. Now there are experts in defense, in attack, and for me it was the same in one place or another.
As a coach, I would never put up with a player Vujovic
Q. And with his character?
R. If I could change one thing, it would be the character. Sometimes I see the stupid things I did and I feel ashamed. Although without that equal character it would not have been the same.
Q. Would he know how to treat a Vujovic?
R. As a coach, I would never put up with a Vujovic. I'm turning 62 and I wonder how they put up with me. I was good, but with a lot of bad milk, a son of a bitch. The rivals, the referees, they all had problems with me. When I get a player like that, I can give him advice so that he doesn't repeat my mistakes.
Q. What has been your greatest contribution to handball?
R. The key moment as a coach was in Ciudad Real and the fight with Flensburg in the 2002 Cup Winners' Cup final, when I was banned for two years [por agredir a un rival]. That changed my career because I didn't get offers from big clubs. They feared my character. And we already know what Ciudad Real achieved later with some players that I had chosen [tres Champions y cinco ligas].
Q. How he led the second leg is sports history.
R. I don't think there has ever been anything like it. She was in Germany, at the hotel, and I had to call my wife in Spain to find out what was going on. [la television germana estaba dando la F1 y no conecto hasta que faltaban siete minutos], and from there give orders to the bench. When we won the title, the president gave us watches and gave one to my wife (laughs). But if we only talk about handball, with the Metaloplastika we change the slow game of the time. We ran, we gave back passes, we threw bagels We were very competitive. We also beat local teams at basketball and soccer. I had practiced basketball. On Saturday afternoon one thing and on Sunday the other. Until at Metaloplastika I had to choose. I think I was right, but now I prefer a good game of basketball to a mediocre one of handball.
Handball is a street runner. I don't think anyone enjoys a 39-37
Q. How has handball changed?
R. Before it was more showy, now it is pure physical. Before it was said that 70% or 80% was talent and the rest, work. Now it is 60% work and 40% talent. There are no players like Richardson, Bogdan Wenta or Enric Masip. They are products, they spend their days in gyms. Everything is a runner. Before you had about 40 attacks per game and, to score 30 goals, you had to achieve a very high percentage. Now, running you have 70 attacks and, if you are at 50%, you score 30 goals. The nice thing was to see how a pivot or the thread at one end was turned, but now there is not enough time to see that in slow motion. I don't think anyone enjoys a 39-37. Tactically, handball has hardly moved in the last 10 years. We have to do something. Play without defense-attack changes or that a nine-meter throw is worth double. We are the only sport where the referee decides when you have to shoot. Why don't you give me 25 seconds of attack and we'll see?
Q. Does this force you to train in a way you don't believe in?
R. You must be up to date, know how to play seven against six and have two or three alternative defenses. We also have a soil that damages the ligaments. Why is basketball in the United States played on parquet? Because there is no better floor for a sport in a pavilion. But we, for a business issue, do it in another type.
Q. How does all this influence the appearance of new talents?
R. In basketball and soccer they debut at 15, 16 and 17 years old because they touch you and it's a foul. Here there is such a high level of contact that it is an impediment for young people who are not made, even if they are very talented. If a 2.10 pivot crosses a skinny full-back with a lot of quality, he breaks it.
Spain surprises me a lot, but for me Nordic is the best style
Q. Do you prefer to train players in progression or stars?
R. It's easier to deal with stars, even though your work doesn't show much because they're done. You can put them in shape, play something tactical, but you don't change their quality much. The work in teams like Iran is more noticeable, yes.
Q. How do you analyze Spain's ability to stay in the elite for so long?
R. It surprises me a lot, and Jordi Ribera achieves this. Let's see how long people like Maqueda, Gurbindo and Canellas can hold out, already at a certain age. Now some young people are coming, although I'm not sure they are up to the level.
Q. For many, the Spanish system is the dominant one. Do you also think so?
R. I believe in my own style. Personally, the Nordic is the best. However, very few can play it. There are many who can copy Spain, which defends very aggressively, runs and does not finish the attack in one or two passes. When you think about making a world team, I don't know who you would choose from Spain. But as a whole they are the best. They fear no one. Hopefully it lasts.
You can follow EL PAIS Sports on Facebook Y Twitteror sign up here to receive our weekly newsletter.
Subscribe to continue reading
Read without limits


Source: EL PAIS