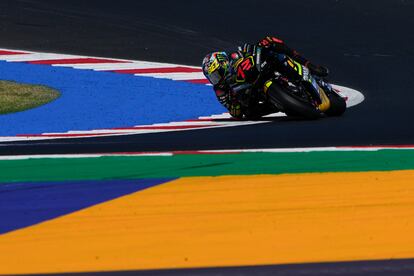 The boss is these days in Misano, at the foot of the track, from where he most enjoys the evolution of his drivers on his home circuit. Barely 20 kilometers, barely half an hour by car, separate his native Tavullia from the route that bears the name of his first protege, the sadly deceased Marco Simoncelli. It was with him that Valentino Rossi began to think about setting up a riders academy in 2011, a VR46 Riders Academy that last year achieved its main objective: giving Italy its first MotoGP world champion after his retirement. .
It was one of Rossi's great dreams, who still continues to enjoy the World Motorcycle Championship as a child thanks to his sporty children. In addition to promoting the academy that brings four top-level drivers to the premier class – the champion Pecco Bagnaia, the experienced Franco Morbidelli and the promising Marco Bezzecchi and Luca Marini, his brother -, Il Dottore He is the owner of Mooney VR46 Racing, second in the team standings. Alessio Salucci, Uccio for everyone, now head of the squad, recognizes that the definitive dream of his great friend Valentino is to win the title with his own structure.
"That would be the bomb. It's not easy with a satellite team, but… The dream would be to win with Bez or Marini, this or next year," he tells EL PAIS who was and continues to be Rossi's right-hand man since his arrival at the World Cup in 1996. The team project and the academy were officially born in 2014, and still today both speak to diary of all this with a passion that makes one envious. "One day, and I will always remember it, he called us and literally told us 'ragazzi, we must found the VR46 Riders Academy'. 'How beautiful!', I thought. He gave me goosebumps."
In less than a decade the results of the project for "tomorrow without Rossi", as Uccio defines it, are spectacular. With Bezzecchi's victory in Argentina at the beginning of the year came the VR46 team's first victory in MotoGP in what is its second year in the premier class. "There we saw that it was possible. That victory gave us greater resolve when it came to wanting to be a leading team, to push forward with two strong drivers and change the chip," he points out.
"It was a fantastic moment, with very beautiful emotions," recalls Bezzecchi, third in the competition and second on the grid behind the Spaniard Jorge Martin in the San Marino GP this Sunday (2:00 p.m., DAZN). The 24-year-old pilot from Rimini, with a friendly smile and curly hair, vividly remembers his first day at the ranch where Rossi set up his academy: "I arrived with my father's work van and some good pints. Vale was very kind and close. He knew me and introduced himself as if he were just another person on this planet. Then I tried a few laps, the first one right behind Pecco."
Bez He was 16 years old when he entered the exclusive academy, a fact that changed his life. "Surely, without Vale and the Riders Academy I would never have made it to the Motorcycle World Championship. "It is a sport where you must be very good, but also have some luck," he acknowledges. There he battled week after week with Rossi and his group of proteges. "His advice, all that wisdom he treasures, so many world races won, are an inexhaustible source of knowledge. "Who better than him to make me grow?" He points out. In his worst moment in Moto2, Rossi rescued his pupil by giving him shelter in his structure when he was still in the intermediate category. Last year, with the approval of the great boss and idol, he made the jump to MotoGP and signed a pole and a podium to finish as rookie of the year.
After accumulating two victories, two poles and five podiums so far this year, Bezzecchi had the opportunity to make the jump to Pramac for 2024, with the right to use the most updated version of the official Ducati motorcycles. He rejected the mount to stay one more year at Rossi's house, a very well-structured team, with a healthy and family atmosphere, which is the envy of the team. paddock. "We have grown a lot together. "They have always believed in me, and they didn't need to tell me much to convince me," he says. Bezwho evidently had a hard time rejecting the factory mount.
He was convinced once again by Rossi, the reference to whom the Italians who dominate the category, from the champion Bagnaia to the unfortunate Morbidelli, always turn to for advice and reflect on their results and performance after each race weekend. "I think we all work for everyone. We are a great group, a family. I'm not saying this to look good, it is like that and I think you can see our great atmosphere from the outside. For example, the relationship between Pecco and Marco is fantastic, real and sincere," states Uccio. The secret formula, he assures, is simple: "Just laugh together and not fall into nonsense."
Step by step, Rossi's latest dream is taking shape. Win the MotoGP World Championship with his riders and his team. The last time it was done, in 2001, he was the one on the bike and the premier category was still the 500cc.
You can follow EL PAIS Deportes in Facebook and Twitteror sign up here to receive our weekly newsletter.


Source: EL PAIS