Everything in Clermont-Ferrand revolves around the Puy de Dôme, like the route that opens the Tour Femmes. Even the local newspaper is called the mountain, and from its doors came the first stage. On her pages you could read an interview with Marion Rousse, director of the test, in which she hopes that the race will be one hundred years old, although who knows what can happen in a century.
You can't even know what's going to happen half an hour later. Mireia Benito told television that she was going to fulfill a dream when the start was taken, but 26 kilometers later, that dream was shattered when, at the head of the peloton, she tried to overtake through a non-existent ditch and suffered a bad fall. She became the first casualty of the Tour from Catalonia and she had to be taken to a hospital with a cervical collar on her neck, although conscious, her team reported.
Like Rousse, like Benito, Lotte Kopecky, in her elegant Belgian champion's jersey, also spoke before the stage, but was reserved. "I'm not going to reveal our strategy." State secret, although the plan is usually to run faster than others, have stronger legs.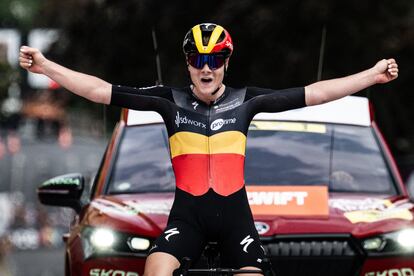 And after a stage controlled by the peloton, with minimal attempts at rebellion, without any hope of progress; With Mireia Benito in the hospital and Marion Rousse in the red number 1 Skoda paying attention to all the details, Kopecky took advantage of the last meters of the only height of the first stage, to, after wearing down his team, advance to the left of the peloton, and surprise with a dry attack that nobody responded. The Belgian, several times world track champion, took advantage, nobody understood behind and dressed in yellow. Her partner Lorena Wiebes, the first to arrive in the group, raised her arms, but she was not mistaken. She was only celebrating the success of her team.
You can follow EL PAIS Sports on Facebook and Twitteror sign up here to receive our weekly newsletter.


Source: EL PAIS