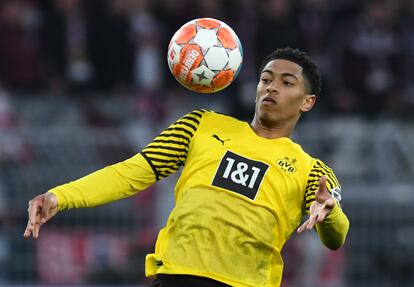 Real Madrid has reached an agreement with Borussia Dortmund for the incorporation of English midfielder Jude Bellingham, 19 years old. According to the amounts published by the German club, the transfer will close at around 103 million euros plus an amount in variables that could reach a maximum of 30% in the next six seasons. The white entity confirmed the agreement, although it pointed out that the signature had not yet been finalized. The player's yes had already been for weeks and all that remained was to finish off the operation with the German team.
These figures will make the British medium the second most expensive signing in the history of Madrid, only behind Eden Hazard (115 million in 2019), and ahead of Gareth Bale (101 in 2013) and Cristiano Ronaldo (94 in 2009). . Bellingham will be Madrid's first signing after the departures of Karim Benzema, Marco Asensio, Hazard and Mariano.
The midfielder, named the best player in the Bundesliga, has multiplied his market value by four in just three courses in another successful deal from the Dortmund factory. He came to the German team in 2020 for 25 million, from Birmingham (then in the English Second), and now he will start above 100. This season he has added 14 goals and seven assists in 42 games. In the past World Cup, he was a fixture for Gareth Southgate.
The acquisition of Jude Bellingham at the Bernabeu means another step in the so-called "transition" of the white team in midfield. Two summers ago he took over Eduardo Camavinga (30 million, 20 years old); the past, with Aurelien Tchouameni (80 million, 23 years old); and now, with English, who will turn 20 in three weeks. In the midst of this rejuvenating process, Fede Valverde (24 years old) has earned the starting status in Carlo Ancelotti's line-ups.
These four must be the leaders of a plot that still houses Toni Kroos (33) and Luka Modric (37), and awaits the decision on his future from Dani Ceballos (26), who has not yet communicated whether he accepts the renewal offer that the club proposed to him. With him, today there are seven pieces in the center of the field. The administration of all of them, especially the balances that he establishes between the veterans and until now non-negotiable (Kroos and Modric) and the youngsters, will be one of the most sensitive points to be legislated by the Italian coach in the next campaign.
In the meetings held recently to design the immediate future, Carletto already knows, as this newspaper published, that one of his missions in the course that starts in August will be to organize that much-vaunted transition. Both the German and the Croatian agreed with the club a few weeks ago to extend their contract for another season.
You can follow EL PAIS Sports on Facebook and Twitteror sign up here to receive our weekly newsletter.


Source: EL PAIS