When she is not with the preparations for the Women's World Cup that begins tomorrow in New Zealand, Pia Sundhage (Ulricehamn, Sweden, 63 years old) follows a simple routine. The Brazil coach, a player in the first women's World Cup, wakes up every morning in Rio de Janeiro and goes for a walk along the famous mosaic walkway on the edge of the beach. "After that, I can deal with anything," she says. On her walk, watching her neighbors and neighboring Cariocas play futevolei In the arena, the eternal question is asked: How is it that Brazil is not always world champion?
Sundhage, who has won two Olympic gold medals with the US (2008 and 2012) and one Copa America with Brazil (2021), has never won the most important trophy in women's soccer. Neither did her new adoptive country. "We will try it at least once," she says in a conversation via Zoom from the Brazilian federation headquarters in Teresopolis.
Brazil's best result was reaching the 2007 final, which they lost to Germany (2-0) after defeating the USA 4-0 in the semifinals with the most remembered goal of Marta's career. Four years later, with Sundhage on the US bench, they clashed again in the quarterfinals, a game that ended with the US winning on penalties. The Americans lost the final against Japan, but that cup marked the beginning of their modern era. With their dominant streak on the pitches and fight for equality off the pitch, the generation of Megan Rapinoe and Alex Morgan changed the game on a global scale, and began to do so with Sundhage at the helm.
An admirer of the agile style of the South American giant, the coach landed in Brazil in 2019 with the idea of ​​balancing technical skills with a tactical focus on defense. Without the support or funding that the men's team receives, the women's team has remained competitive behind the back of Marta, top scorer in World Cups (17 goals in five tournaments), now 37 years old and in full recovery from a torn cruciate ligament. former. Inspired by Argentina's prowess in the men's World Cup, the new generation will try to give their legend the same farewell Messi received in Qatar.
Ask. He has directed on several continents. What is the biggest challenge of doing it in Brazil?
Answer. The Brazilian players are very emotional, they surprise you on the field ignoring the game plan, which is sometimes positive because their way of seeing football is better than mine. When the result is good, it is very good, but when it is bad, it is very bad. It's like a roller coaster, unpredictable for opponents, but sometimes for teammates as well. They have embraced my concept of defensive organization, they trust him, but it is difficult to find that balance without taking away their confidence in his style of play.
Q. Has living in Brazil changed you as a person or as a coach?
R. Yes. There is this word: patience. In Sweden you have a plan, a process, you know what is going to happen. In Brazil you have to be prepared for everything, because every day surprises you and instead of freaking out because it's not "the Swedish way", I have adjusted my expectations. I try to embrace the culture and at the same time, as a professional trainer, I think the reason they offered me the job is because they need a bit of a change. It is what I try to do without losing the Brazilian character.
Q. How is your Portuguese?
R. If I listen to a conversation, I understand. Some players translate for me, but they all answer me in Portuguese. But it's hard to have professional conversations and get the most out of them without it being in English. And since part of my team speaks better English than I do Portuguese, I don't hear the language enough to learn it properly. But they appreciate my efforts, which is the fun part, and I get feedback from the sports psychologist on how the conversation between me and the players is going. Thus I become a better listener, able to ask better questions.
Q. This World Cup is shaping up to be the most competitive. What is Brazil's position?
R. We're ranked eighth, which I think is a pretty good assessment of where we are. USA, Germany, Sweden and England are favourites, but now we are finding our game and there are things we are very good at. We gained confidence playing against England (Finalisima) and beating Germany (friendly). We are dreaming – and I include myself – of playing seven games. Is it realistic? Yes, we are one of the ten teams that can arrive. But I think it's important to enjoy the road. This team is so technical that if we get past the group stage, we can be unstoppable if we keep dreaming. If you have healthy players, they don't get injured and you have a bit of luck, you're in the final.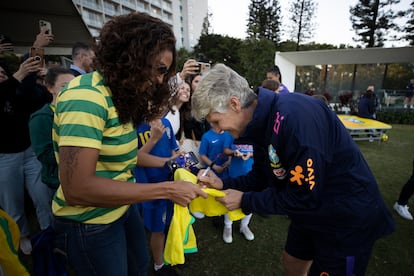 Q. There is this impression that we have reached a turning point in international women's soccer, which the US has dominated for a while, but now there are other countries with more soccer traditions that are catching up with more investment and organization. How do you see it from your place?
R. I think it's a good way to explain what's going on. The USA has a lot of new players. Sweden have been chasing first place since 1991, Germany have always been fantastic. Look what England does with their league and with their national team, with Sarina (Wiegman), perhaps the best coach in the world. Canada, which was always seen as a tough team, but no one thought they would win the Olympics. There is great competition. Be careful with Colombia, they have good players. Look at Barcelona and how Spain plays. This was not seen five, six years ago. Winning the World Cup has never been more difficult than now.
Q. Women's football has become a good business, moreover, which was not the case when it was more of an ideological cause, of giving opportunities to women because it was "the right thing to do".
R. But there is something that is so obvious. If you see a men's team playing and someone sends a cross, you not only see it, but you hear it, because there are 30,000 people watching in the stadium and that creates an atmosphere and a feeling that continues to attract people. It's what's happening now [en el femenino]. The other thing is the business, and who decides if it is worth putting a dollar in the feminine instead of in the masculine. Not for good vibes, but because they want to make money. And now things are happening in the feminine. In Brazil I have fought, but this last year of my contract I want to enjoy the players I have, and have the greatest possible impact on Brazilian football by winning. And not just winning, but improving performance. Let the players say that they learned something and enriched the Brazilian style of play. That is my dream.
Q. And in the cup?
R. They all wish us good luck and really hope that we can win a medal, which they haven't achieved for 15 years (silver at the Olympic Games in Beijing 2008). It's time. Especially with a footballer like Marta, who is the queen. Even the players talk about her like that, and I would say that she deserves a gold medal.
You can follow EL PAIS Sports on Facebook and Twitteror sign up here to receive our weekly newsletter.
Subscribe to continue reading
Read without limits


Source: EL PAIS