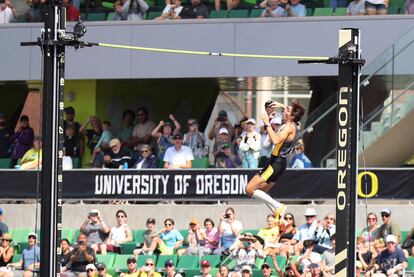 When on February 8, 2020, the last pre-pandemic year, a dark and cold winter afternoon in Torun (Poland), the town of Copernicus, a carefree 20-year-old boy, half Swedish, like his mother, half American from Louisiana, like His father, called Mondo Duplantis, with the most normal physique in the world (1.81 meters, 79 kilos), short neck, broad shoulders, always smiling clear eyes, happily jumped 6.17 meters with the pole, and thus beat for a centimeter a world record that the Frenchman Renaud Lavillenie had established nine years before, after rubbing his eyes to confirm that the wonder that his eyes had seen was not an enchantment, the great lovers of athletics baptized the young prodigy the Mozart on the pole and they assured, without trembling, that the 6.20 meter barrier, judged utopian a few months before, would fall sooner rather than later, and who knows if the 6.25 meter barrier.
Some may have been frightened by his prediction, but they soon realized that they had fallen short. Three years and seven months have passed. No other pole vaulter has since been able to overcome the 6.10m barrier (only Sergei Bubka and Lavillenie have achieved it in history), but Duplantis has continued to climb tirelessly, centimeter by centimeter, as if the atmosphere that carried him were a ladder. allows you to run 45 meters in 20 supports until reaching a speed of 10 meters per second, carrying in front, like a spear, a yellow stick 5.20 meters long and two kilos in weight, and propelling yourself to transform all the kinetic energy into force to bend a rigid pole as hard as a tree trunk. Six times since then, the athlete who learned to jump with a broomstick on the sofa at home before almost walking has improved his world record, imitating his father, Greg, a high-level pole vaulter (5.80m, his best mark, in 1993, when his son Armand, called Mondo by everyone, was three years old), at a rate of twice and a peak per year, in 2020, 2022 and 2023 (2021, empty due to the effects of the pandemic), and the last, on Sunday, noon on the Pacific coast of the United States, Hayward Field stadium, in Eugene, almost midnight in Europe, to leave it at 6.23m.
Armand Duplantis' impressive flight in Eugene.

6.23, his seventh world record.

The previous ones
6.22-Clermont (2023, indoor)
6.21-Eugene (2022, outdoors)
6.20-Belgrade (2022, i)
6.19-Belgrade (2022, i)
6.18-Glasgow (2020, i)
6.17-Torun (2020, i)pic.twitter.com/ZBRC736a4m

— juanma bellon (@juanmacorre) September 18, 2023
It was the shortest and most perfect contest in memory. Duplantis only jumped three times, not a single jump (5.62m, 5.82m, 6.02m), before being left alone and immediately asking, without a moment's hesitation, to raise the bar to 6.23m. His body lightly brushed the ribbon, which shook on his supports as he descended, but did not collapse. The first time he broke his seventh record. And more than him, who celebrated it madly, screaming and slapping the audience as hard as punches, so much adrenaline had accumulated and needed to release, his competitors celebrated his arrival to seventh heaven, the gigantic North American Sam Kendricks, above all, who lifted him up. in triumph almost on his shoulders, and his father, and all his people in the stands of the remodeled stadium for the 2022 World Cup, where he had already set the record at 6.21m when he won it, and a sanctuary of athletics in the empire. "This stadium has history and a modern touch, the track is super fast, the spectators and the energy they transmit are fantastic," said the athlete, two-time outdoor world champion and Olympic champion in Tokyo, after the record. "It has everything I need to beat the world record."
The 6.30m barrier, which no one dared to dream of, so impossible it seemed, now seems to specialists to be as possible as the 6.25m barrier three years ago, and a matter of time (and fortune: Incredibly, in such a complicated specialty, Duplantis never gets injured). "I hope to continue jumping and jumping higher and higher, but now I just think about enjoying the moment," said the athlete who competes for Sweden and who at 18 years old already jumped 6.05m. "I've loved pole vaulting so much since I was a kid I just want to be able to take pole vaulting to another level and attract as many eyes as possible to the vault by jumping very high and doing funny things"
The season that ended on Sunday with the Diamond League final in Eugene, United States, has been phenomenal for athletics, and not just because of Duplantis. Counting on his two records, 6.22m in February, in Clermont Ferrand; 6.23 in September, 11 world records have been broken, and figures like the Norwegian Jakob Ingebrigtsen, another, like Duplantis, born with the century (he turns 23 this Tuesday), have established themselves as phenomena. In his desire, still impossible, to erase the Moroccan Hicham el Guerruj from the top of the 1,500m and the mile, Ingebrigtsen, an almost unbeatable middle distance runner (he only fails in the finals of the 1,500m World Championships, the distance in which he is Olympic champion, the distance that most obsesses him), has broken two world records in unusual distances (2 miles, 7m 54.06s, and 2,000 meters, 4m 43.13s), in July he broke the European record of 1,500m (3m 27 .14s, still far from El Guerruj's 3m 26s) and this past weekend, in 24 hours at the same Hayward Field in Eugene, he broke the continental record for the mile, on Saturday, 3m 43.73s, six tenths away of the world record of El Guerruj, and the 3,000m on Sunday, 7m 23.63s.
So appetizing are Ingebrigtsen's races, so good are the hares, so magnificent is the gradual, imperceptibly increasing rhythm of the Norwegian's steps, that all those who compete in them improve their records. This is what happened to Villar de Gallimazo from Salamanca, Mario Garcia Romo, 24, who on Saturday finished fourth in the Ingebrigtsen mile with such good time (3:47.69s) that he beat a Spanish record that was thought to be untouchable by one tenth. for 38 years, which the legendary Toledo native Jose Luis Gonzalez (3m 47.79s) established at the Bislett stadium in Oslo on July 27, 1985, second after the world record then held by Steve Cram (3m 46.32s).
In the final in Eugene, a second world record was broken, the women's 5,000m. It was achieved by the 26-year-old, 45-kilogram Tigray Ethiopian Gudaf Tsegay, the world champion of the 10,000m in which Sifan Hassan collapsed, who, with 14m 0.21s, shaved almost 5s off the already magnificent record (14m 5.20s) that Kenyan Faith Kipyegon had established only last June. The same summer, Kipyegon, world champion of 1,500m and 5,000m in Budapest, also broke the world records of 1,500m (3m 49.11s) and the mile (4m 7.64s).
Also breaking world records in 2023 were the Ethiopian Lamecha Girma (7m 52.11s in the 3,000m steeplechase), the North American Ryan Crouser (23.56s in the shot put) and the Spanish Maria Perez, double world champion in walking, who In May, he set the world record for the 35 kilometers in 2h 37m 15s.
You can follow EL PAIS Deportes in Facebook and Twitteror sign up here to receive our weekly newsletter.


Source: EL PAIS