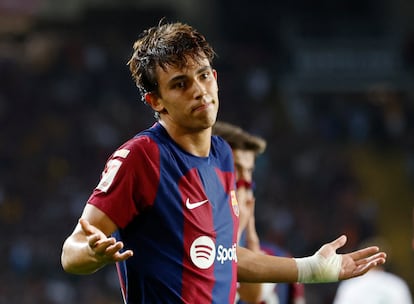 Montjuïc needs a hook for the fans. With the possibility of Lionel Messi's return quickly disappearing, Joan Laporta was in search of a player with charisma, those who are a magnet for brands and a gift for the fans' eyes. And he found it, or at least that's what it seems for now. In his debut as a starter for Barcelona against Betis, in this strange season away from the Camp Nou, João Felix raised his hand, essentially his football. "I am working to be at the best level. The team environment is very good. It is easy to play among these players. "I'm happy, the change has been good for me and my family," explained the former Atletico de Madrid forward, who arrived this summer on loan (without a purchase option) to Barca. "We have footballers who help people enjoy themselves. João does it, but also Marc (Ter Stegen), Araujo when he returns, Gavi, Robert (Lewandowsi)… It is the team that generates excitement," said Xavi Hernandez.
5
Ter Stegen, Cancelo, A. Christensen (Inigo Martinez, min. 76), Kounde, Alex Balde (Marcos Alonso, min. 76), Gavi, Oriol Romeu (Gundogan, min. 63), Frenkie De Jong, Ferran Torres (Raphinha , min. 63), João Felix (Lamine Yamal, min. 63) and Lewandowski
0
Rui Silva (Francisco Vieites, min. 45), Bartra, Juan Miranda, Hector Bellerin, Chadi Riad, Sergi Altimira, Luiz Henrique, Isco (Rodri, min. 65), Ayoze Perez (Juan Cruz, min. 65), Marc Roca (Guido Rodriguez, min. 65) and Willian Jose
Goals 1-0 min. 24: João Felix. 2-0 min. 31: Lewandowski. 3-0 min. 62: Ferran Torres. 4-0 min. 65: Raphinha. 5-0 min. 81: I cancel.
Referee Jose Maria Sanchez Martinez
Yellow cards Bartra (min. 71), Guido Rodriguez (min. 83) and Inigo Martinez (min. 85)
However, two touches from the Portuguese, one to open the scoring, another to sign an assist without touching the ball, were the key to awakening the team and the fans in Barca's victory against Manuel Pellegrini's team. In his 64 minutes on the field, the Portuguese, in addition to the goal, touched 56 balls and had a passing percentage of 96%. He was as confident with the leather as he was intense in the duels: he won five and recovered three balls. "Everyone was very good. Everyone in the place they should be. When you have a good structure and the ball circulates quickly, spaces and goals appear," commented João Felix.
"He is still a young player. We have the weight he has had and how much it has cost him. Everyone talks more about the price than the quality of it. It is a one-year loan and we hope to enjoy him and help the team," said Deco, Barcelona's director of football. There was calm in Barcelona's sports management. They knew it was only a matter of time. They did not suffer with the departure of Dembele (they had Raphinha on the right wing, although they were surprised by the emergence of Lamine Yamal) nor were they concerned when Abde insisted and insisted that he wanted to leave for Betis. "On the last day of the market, things will happen," they warned from the club's sports management. "We knew that Jorge Mendes (the Portuguese representative) would help João Felix end up at Barcelona," conclude the same sources.
Mendes' help, in any case, was not limited to Felix. He also acted as a bridge for Cancelo to arrive, the Barca coach's wish. "They are two footballers whose individual quality is beyond all doubt. You watch them train and you see their greatness. They increase the quality of the team. The crowd at Montjuïc has been extraordinary. I liked the atmosphere at the Camp Nou," explained Xavi, happy with the group, also with the game. "I wouldn't say it was a perfect match, but it was excellent in many sections, I am very satisfied," concluded the Barcelona coach.
You can follow EL PAIS Deportes in Facebook and Twitteror sign up here to receive our weekly newsletter.


Source: EL PAIS