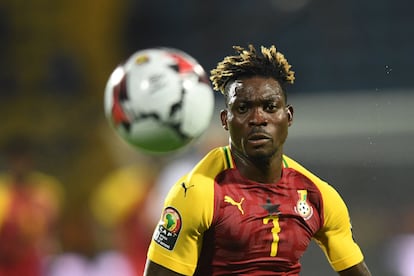 Rescue teams have found the lifeless body of Ghanaian soccer player Christian Atsu, 31, under the rubble of a residence in the Turkish city of Hatay, one of the most destroyed by the strong earthquakes that affected Turkey and Syria last year. February 6, as confirmed by the player's representative in the Eurasian country, Murat Uzunmehmet. The international footballer for the Ghanaian national team and the Turkish club Hatayspor has been missing since then. The striker, who also played for Porto, Chelsea, Malaga and Newcastle, among other clubs, died under the rubble of his home at the Ronesans residence, where his relatives, who had moved to Turkey, had been following for days rescue work.
Hatayspor manager Fatih Ilek has said that Atsu had planned to leave the club, and had bought a plane ticket to France for the same day as the earthquake, but backed out of that plan after scoring a goal in the last minute of the match against the Istanbul Kasimpasa and canceled the trip. He "he had a plane ticket, but he gave up going because he played well and scored. He was caught by an earthquake on his happiest day", revealed Ilek.
Atsu has been missing since the first day of the 7.7 and 7.6 magnitude earthquakes, which have caused at least 45,000 deaths in southeastern Turkey and northern Syria. Experts estimate that there are still tens of thousands of bodies under the collapsed buildings.
Taner Savut, Hatayspor's sporting director, was also found under the rubble of the Ronesans residence, where Atsu lived, but rescue teams have yet to locate him.
The Turkish Football Federation has approved the withdrawal of several nine-team leagues, including Hatayspor, which played in the Turkish Football Super League, after losing players or sustaining severe damage in the earthquakes.
You can follow EL PAIS Sports on Facebook and Twitteror sign up here to receive our weekly newsletter.


Source: EL PAIS