Alex Corretja (Barcelona, ​​49 years old) comes and goes non-stop, microphone always in hand and a sharp eye to hunt and capture the protagonist. He stops and departs, extending his panoramic gaze over this different Roland Garros. You know, Nadal is not there. He, today a commentator, touched glory on two occasions in Paris; he was deprived of it the first time by Carlos Moyà, in 1998, and the second time he collided with the dimension of Gustavo Kuerten, in 2001. In love with his sport, these days he is the voice of the international channel Eurosport, which until 11 June, the day of the final episode of this 127th edition, offers in-depth television coverage that includes close to 300 hours of live broadcast.
Ask. Spring, May, Roland Garros and, for the first time since 2005, Nadal is not here. Weird right?
Answer. I hear that and I get goosebumps, for many reasons. Rafa will not be there, and that makes this Roland Garros something so atypical, so strange and so open at the same time, that it could perhaps be the most unpredictable in the last 15 years. Historically, when we talk about Paris we talk about Rafa and then the others, because he always reappeared, but this year it will not be possible and it makes it a very open event; the range of favorites grows and you wonder who will be able to manage everything that this tournament entails, which as we all know is very changeable.
Q. As a player, would this new map have upset you a lot?
R. No, on the contrary. On the one hand, I'm sad, because Rafa is a blow, but on the other I have great expectations to find out who can take it and who handles the cards better. The fact that Rafa has announced that he will not be with this margin helps everyone to get psyched up and understand this new situation; have had time, it is a great test for others. It would have been different if he had competed and maybe he loses in the round of 16, for example, but now the rest have entered clean in the tournament and knowing what there is. That's positive.
Q. Inevitably, all eyes turn to Alcaraz. Is he prepared to handle the situation?
R. He is more than prepared, because he has more than demonstrated it. He had the opportunity to be number one and he did it, also winning his first Grand Slam, and this season he has managed to get in shape very quickly despite starting later than most; he has won trophies, the tour on the ground has been brilliant and the step back in Rome has been very important, but in a good way; I think it was necessary for him to loosen up the machines and recover energy.
Alcaraz has a lot of energy inside, but let's remember Rafa. He will end up controlling it
Q. What percentage of your success depends on the game and how much on your mind?
R. It is a mixture, because your game is basic so that you can believe it, and that in the end is directed by your mind. I think that mentally, these last few days will have been a spectacular learning experience for him, but not because he might need any humility cure or anything like that, but because they have simply put him in a position and told him that he needed to stop. He needed it. The one in Rome was a very good defeat for him; he has lowered his expectations and has taken a breath, because the tank is emptying and with that stop he surely has been able to fill it up again. If he's okay, I think he's going to be able to control the situation mentally, and in physical terms, maybe he's realized that at five sets and on clay, maybe he doesn't have to play fixed gear all the time, as if was a thoroughbred…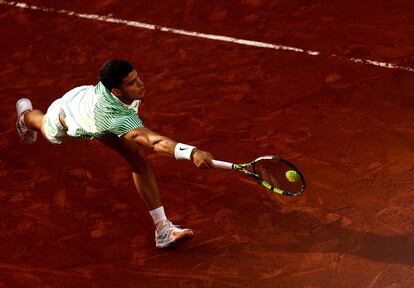 Q. How do you learn to stop being so young?
R. Experience gives you that, and he is 20 years old. What has a style? Of course he will, and I'm sure he's going to keep it, but from there he'll probably realize that with 4-1 and 40-0 in his favor, maybe he doesn't need to go crazy for a drop shot and then shoot. a willy [tiro por debajo de las piernas] He has a lot of energy inside, but let's remember Rafa when he was young. He will end up controlling it. He has a good time playing, and that is a very big advantage.
Q. Djokovic arrives with a low profile. What do you expect from him?
R. If he's not bad from any injury, which I don't know, of course he's going to be one of the strongest candidates. He is the one with the most experience in the long box, the only one who has been able to win the tournament [junto con el suizo Stanislas Wawrinka]the one that has the largest [igualado a 22 con Nadal] and generally tends to go from less to more. On the ground tour he doesn't usually stand out very much, except that he used to play well in Madrid or Rome, and this time it hasn't been like that, but regardless of that, he's capable of getting in shape in a few days and he'll be there; He will go through those bumps and tangles that he usually suffers, but once he does, we are talking about Djokovic… We cannot deny that his tour has been quite poor for a player of his level, and you see that he may be lacking a bit.
Q. Under normal conditions, he would be the undisputed favourite. Has the change been definitively consolidated?
R. Yes, it's clear. A new era has already opened. Perhaps Novak is not the best candidate, because he is playing on a surface in which Alcaraz has shown that he can do it well, as Rune has done or even Medvedev himself… And then there are Ruud, Tstitsipas or Rublev, who at Better he controls them a lot more on other surfaces and on this one not so much. The differences on land are minor.
Q. Speaking of the feminine product, is it taken care of well enough? Lately, ugly details in Madrid, Rome…
R. Tennis is one of the most exemplary sports in this regard, despite everything we still have to do. We cannot focus on a sport that is moving in the right direction, but on other aspects of life in which we can improve. There is a long way to go, but it must be done in a way that does not cause great wear and tear on the girls because they already have enough to play, compete and train. The whole of society must help inequality and all these things to be ironed out; It is a duty of all, not only of the girls.
Q. Swiatek, Sabalenka, Rybakina shine up there. There are extraordinary players. What is missing to generate more attention? Is it a question of charisma?
R. We have spent so many years in which there has been so much variety, so many alternatives, that the ones that are in charge now need to be truly consolidated so that people believe them. Swiatek has taken a step forward for a couple of seasons, and Sabalenka and Rybakina need to certify again that they are going to go further, that they are going to be there in Paris, then in London and then in New York. It seems that they have come to stay, but we will see. That is what will make fans identify with them, and I apply this to men's tennis. You identify with someone when you earn a lot, but if there is a lot of variety it is difficult. References are needed, and not only in the case of girls.
You identify with someone when you win a lot. References are needed, but not only in girls
Q. Barty, Osaka, Muguruza, Anisimova, voluntarily pushed aside by mental erosion; cases such as Pouille's alcoholism, Thiem and injuries, many frustrated projects… What is failing?
R. Let's start from the premise that tennis players are privileged. Now, tennis is an ultra-demanding sport, extremely intense and extremely difficult to manage from a very young age; This is not visible, nor is it noticeable if it is understood when you say it, because from the outside you only see the money we earn, and thus it is impossible to put other situations into perspective. What is happening is a true reflection that this sport, beyond how beautiful it may be, is at the same time a psychological shredder. As much as you have a team behind you, you are the one who must manage everything. What is wonderful? Yes, but that does not mean that the toll it exacts from you is enormous.
Q. The wheel does not stop, cases proliferate.
R. Without going any further, the example of Djokovic is there; He plays in Australia in January with the pressure of having to win on the 22nd, then he can't compete in the United States and then he comes to earth as best he can Everything accumulates, and in the end everything often turns into an ordeal. But of course, tell someone who earns 1,000 or 1,500 euros a month that what we do is very complicated… It's about putting everything in perspective so that people understand it and don't send you to hell, speaking clearly. I don't think that tennis players are bloody ungrateful, but tennis simply drives you towards certain mental and physical limits that are not easy to manage.
300 HOURS OF LIVE BROADCASTING
Eurosport will offer until June 11 almost 300 hours of live broadcast through its channels (1 and 2) and its App. The channel has the analysis of national and international experts from the Roland Garros facilities and The Cube. Fans can follow all the daily news of the Parisian tournament on the program passing balls and they have access to every match on the complex's 16 courts. The women's individual final will be broadcast live on Saturday June 10, starting at 2:30 p.m., and the men's final on Sunday June 11 at the same time.
You can follow EL PAIS Sports on Facebook and Twitteror sign up here to receive our weekly newsletter.
75% discount
Subscribe to continue reading
Read without limits


Source: EL PAIS