Researchers have discovered a golden sphere stuck to a rock more than 3,000 meters deep off the coast of the United States. The specimen must be analyzed in the laboratory to potentially be identified.
An intriguing find. Scientists from the US Navy The National Oceanic and Atmospheric Administration (NOAA) discovered an unidentified golden sphere during an underwater mission carried out in the Gulf of Alaska, at the bottom of the Pacific Ocean, on August 30. It could be a marine animal egg.
Several hypotheses on the table
Measuring around 10 centimeters in diameter, the specimen was spotted stuck to a rock at around 3,300 meters depth by the oceanographic vessel Okeanos Explorer during an underwater exploration mission led by NOAA.
The color of this dome, entirely golden, immediately intrigues researchers who evoke several theories, according to NOAA. Among them, "coral", a "dead sponge envelope" or even a marine animal "egg", indicates the agency in a press release published Thursday.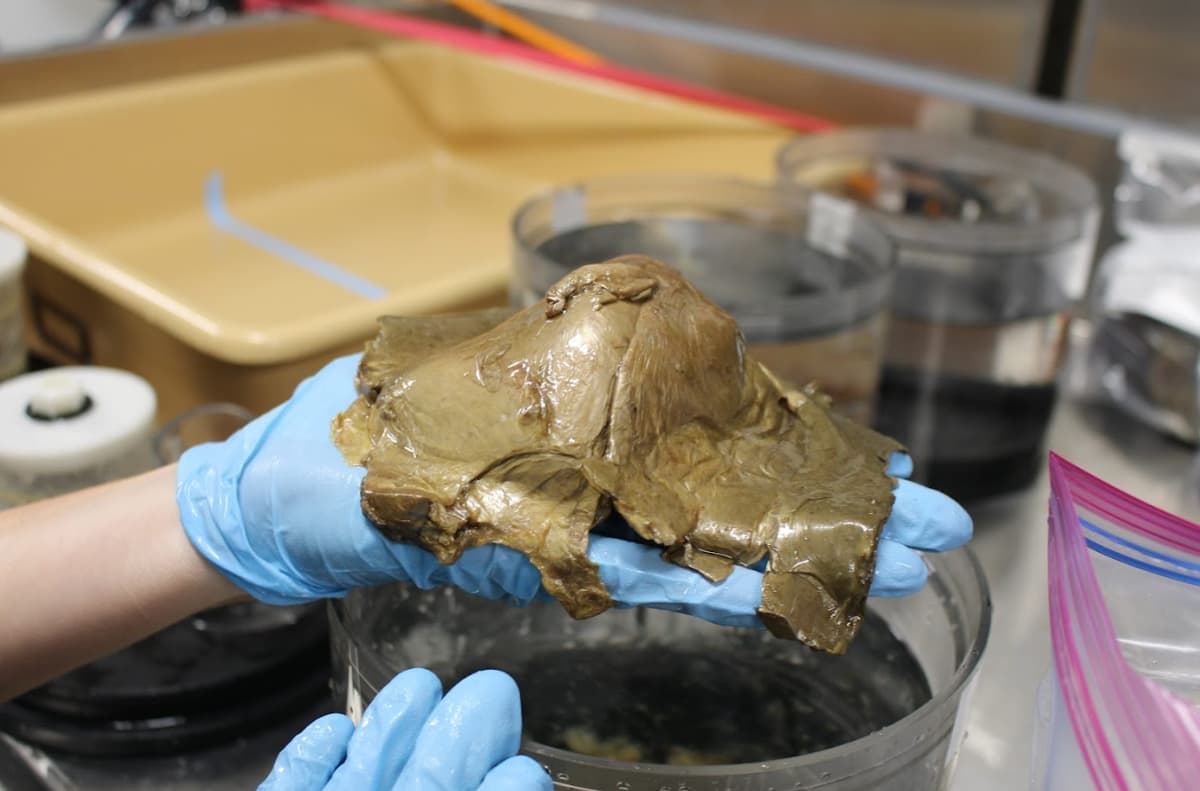 The object of the strange discovery was severed by a marine robot and collected by the researchers in order to be analyzed.
"Aren't deep waters deliciously strange?" noted Sam Candio, scientist and coordinator of the expedition that discovered the golden dome.
The object, yellow-brown in color once brought to the surface, was first subjected to an initial analysis, carried out on board the ship. "We are still not able to identify it beyond the fact that it is of biological origin," said Sam Candio for the moment, referring to a texture similar to "skin tissue".
At this stage, researchers still do not know whether this dome belongs to an unknown species or whether it could be part of a previously unidentified stage of life.
"We will probably not learn more until we are able to introduce it into the laboratory" where researchers will have "more sophisticated tools", specifies the engineer. Analyzes, particularly DNA, are on the program.
A "disconcerting" discovery
For deep-sea biology professor Kerry Howell, the discovery of new species during missions of this type is not uncommon. "What is unusual is that we are not even sure what it is. An egg, a sponge, what is it?", he emphasizes to the Guardian.
The researcher Sam Candio wants to be a philosopher on his side. "While it is somewhat disheartening to be disconcerted by this discovery, it reminds us how little we know about our own planet," he said.
The discovery took place during the Seascape Alaska 5 mission, intended to map the seabed and in particular observe the corals and sponge habitat located in the deep waters of the Gulf of Alaska. Started at the end of August, the operation must continue until September 16th.
Source: BFM TV