However, the Ukrainian president did not hesitate to affirm that the destruction occurred "because" of Moscow, which, in turn, accuses Kiev of having planned the attack in advance.
The President of Ukraine, Vladimir Zelensky, declared this Wednesday, in an interview with the German tabloid Bild, that kyiv currently has no proof to support his version that it was Russia that allegedly blew up the dam at the Kakhovka hydroelectric power station, located in the Russian province of Kherson.
"What evidence can we have? When we are on the ground, then we will collect evidence. It only happened because of Russia and the people who now control this strip of land. A year ago we said that we had information that something would happen," said the president.
In parallel, Zelenski attacked the UN and the Red Cross for lack of response to the disaster that caused massive flooding on both banks of the Dnieper River, since "they should be the first to save lives." Likewise, the Ukrainian leader was disappointed by the reaction of these organizations, which, in his words, was "very diplomatic." "We have not received any response. I'm shocked," she said.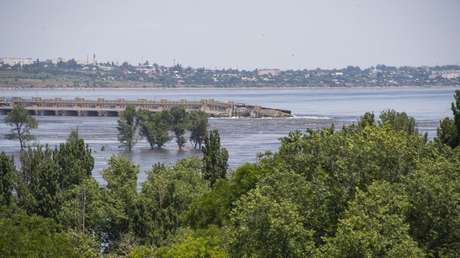 Counteroffensive underway?
On the other hand, the president pointed out that the partial destruction of the dam harms the plans in the framework of the counteroffensive that, according to the Russian Ministry of Defense, has already begun and is being repelled by its troops. "It doesn't help us with the counteroffensivedoes not facilitate the counteroffensive. […] They fear that we will start the counter-offensive in that direction and they want to make it more difficult for us to liberate our areas," Zelensky said, refusing to give details about the large-scale counter-attack expected for months.
Asked directly if the counteroffensive had already started, the Ukrainian president limited himself to saying that everyone "will feel it." "When they see her and feel herthen they will have understood that it has begun", he synthesized.
This Tuesday the Russian Defense Minister, Sergei Shoigu, pointed out that kyiv's attack on the Kakhovka dam is a "terrorist crime" which was carried out with the aim of redeploying units and equipment of the Ukrainian forces in the zone of offensive action and starting to fortify defensive positions on the right bank of the Dnieper.
The attack on the Kakhovka hydroelectric dam early Tuesday morning caused the dam to rupture and massive flooding on both sides of the Dnieper River, prompting large-scale evacuations in the area. In Kherson province, a state of emergency was declared due to the disaster.

Vladimir Putin described the attack as a "barbaric action" and "a dangerous gamble in the escalation of hostilities." He accused kyiv of committing "war crimes", use "openly terrorist methods" and organize "sabotage on Russian territory".
Source: RT