Oliver Anthony's viral hit "Rich Men North of Richmond" debuted at No. 1 on the Billboard Hot 100 chart, making the singer-songwriter the first artist in history to achieve this feat without charting before.
On August 9, a US radio station posted a video of an unknown singer on YouTube, which then, in just 2 days, racked up more than 2 million views and topped the iTunes Country chart.
Oliver Anthony's viral hit, 'Rich Men North of Richmond'thus debuted at number 1 on the Billboard Hot 100 list, making the singer-songwriter the first artist in history to achieve this achievement without having previously appeared on any list, according to Variety.
Unlike the pop hits that usually top this 'ranking', Anthony's country ballad harshly criticizes the authorities and talks about the situation of the working class in his country. "I've been selling my soul, working all day, overtime for shit pay […] It's a fucking shame what the world has come to, for people like me and people like you.", sings.
"These rich men north of Richmond. God knows they all want total control, they want to know what you think, they want to know what you do, and they don't think you know, but I know you do. Because your dollar ain't worth shit and taxed to no end", keep going.
In other parts of the song, he expresses that "I wish politicians would take care of miners and not just minors on some island" and laments that "young people are burying themselves 6 feet underground because everything this damn country is to keep hitting them."
'Rich Men North of Richmond' garnered 17.5 million views and sold 147,000 downloads in the tracking week ending August 17. The video for the song on YouTube has to date 34 million views.
Within days of its release, some conservative politicians lauded the song, taking the opportunity to criticize excessive taxes and the administration of President Joe Biden.
Congresswoman Marjorie Taylor Green called to the song "the anthem of forgotten americans". Kari Lake, Republican supported by Donald Trump and former candidate for Governor of Arizona, qualified the composition as "a hymn of the present moment in American history". While NBC News called it "the anthem of conservatives."
For its part, the BBC writes that 'Rich Men North of Richmond' once again highlights the political divisions of American society, since Anthony represents the image of "a hero of the resigned, rural, white working class".
After debuting at number 1 on the Hot 100 chart, Anthony told Billboard: "The hopelessness and frustration of our time resonates in the response to this song. The song itself is nothing special, but the people who have supported it It's incredible and deserves to be heard."
"I have spent many hopeless nights, watching the country rapidly fade away"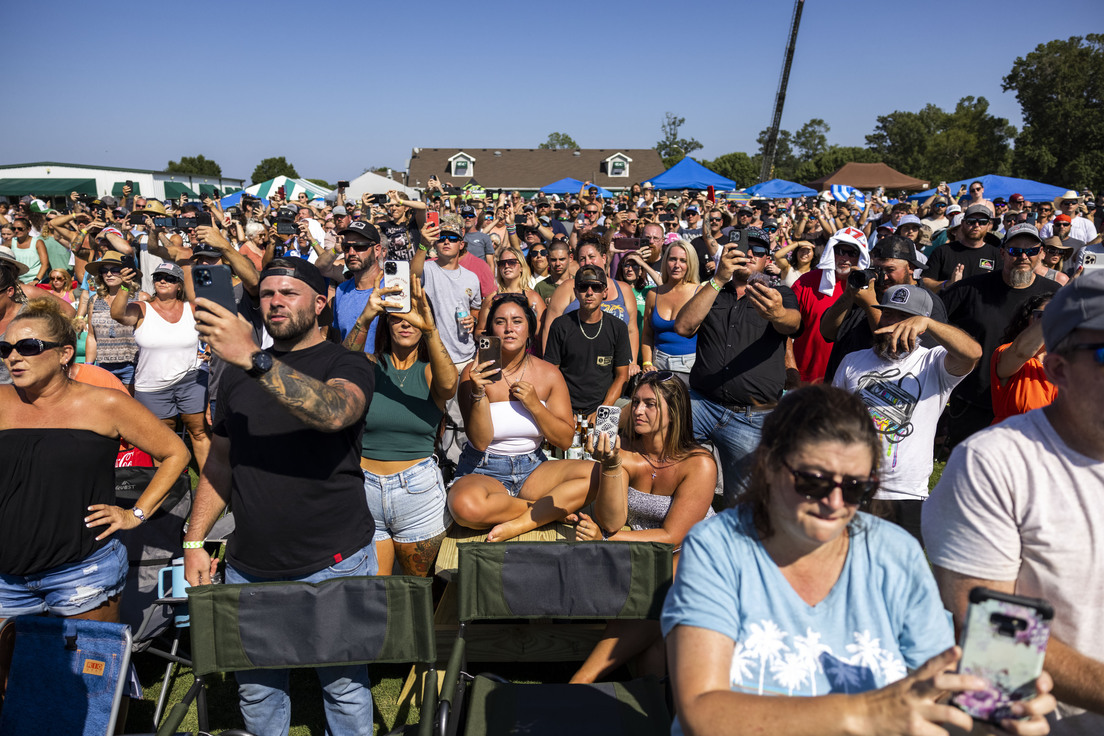 The singer-songwriter himself commented on the lyrics of the song through his social networks: "It saddens me to see the world in the state it is in., with everyone fighting each other. I have spent many nights feeling hopeless, seeing how the best country in the world is fading fast". As for himself, he stated that "there is nothing special about me". "I am not a good musician, I am not a very good person. . I have spent the last 5 years struggling with my mental health and using alcohol to drown it out," he wrote.
He also stated that he is not attracted to fame: "People in the music industry give me perplexed looks when I turn down offers of 8 million dollars. I don't want 6 tour buses, 15 trucks and a jet. I don't want to play stadiums, I don't want to be under the spotlight." "I wrote the music that I wrote because she was suffering from mental health issues and depression. These songs have connected with millions of people on a very deep level because they are sung by someone who feels the words. at the same time they are sung. No edits, no agent, no bullshit. Just an idiot and his guitar," reads his post.
If you liked it, share it with your friends!


Source: RT