The far-right leader won the primary elections for presidential candidates last Sunday.
Young and famous Argentine musicians began to speak out politically to warn about the risks involved in an eventual triumph of the far-right candidate for the presidency, Javier Milei.
The pop star Lali and the rappers Ca7riel and Trueno were the first to demonstrate, although in exchange they received a cascade of criticism and insults from the supporters of the candidate who surprisingly won the primary elections last Sunday.
"How dangerous. How sad"Lali wrote on Sunday night, when official reports confirmed that Milei had obtained 30% of the votes, which allows her to lead the electoral competition with a view to the general elections on October 22.
It doesn't bother me at all that they "bardeen" me for considering it dangerous and sad that there are people who vote for an ANTI-RIGHT. The violence with which they bardean and the arguments are a reflection of what they vote fairly. We get used to considering that if someone thinks in a certain way…

— Lali (@lalioficial) August 14, 2023
"It is dangerous to live with 120% inflation and 50% poverty", "Lali, from the most expensive hotel and a full belly", "There is danger in the street when you are shot by a cell phone", "dangerous are those who are now", "ignorance is dangerous, so are lefties""Yours is a bad person", were some of the messages of repudiation that he received.
In response, the artist who has 24 million followers on her social networks stated that she did not mind being insulted because she considered it dangerous that so many people have voted for a politician who is against social rights.
"The violence with which they barde (attack) and the arguments are a reflection of what they vote fairly. We get used to considering that if someone thinks one way it is because they are on the other side," he said.
She also explained that, within the "declining political and economic panorama" in which Argentina finds itself, she will always be on the side that defends the rights won.
Catriel calls the youth to rethink about the right "I had the privilege of going to school, because it was free. Otherwise I could not have gone to school. If the healing had been private, I would be dead. It is important to think about our future" pic.twitter.com/7NDcnRtGgL

— Gonza Carranza 🏳️‍🌈 (@gonzacarranzaa) August 14, 2023
Milei himself joined the controversy, but to detract from the artist. "I don't know who Lali is, I listen to the Rolling Stones"said.
alerts
On the other hand, the rapper Ca7riel published a video in which he recalled the importance of free health and education, since Milei wants to privatize them.
"If the hospitals, if healthcare had been private, I would be dead because on more than one occasion doctors from public hospitals have saved my life, it is very important to think about our future and in the hands of those who are going to leave them (… ) where there is a need there is a right, so when you need it, it will already be too late," he said.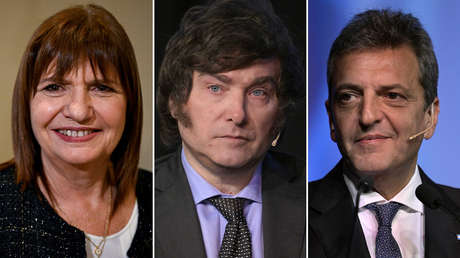 Later, Trueno, his colleague from the musical generation, chose to write a short message. "Your rights are the only thing you have, don't give yourself away"summoned the musician who, despite being 21 years old, is already recognized for his social commitment.
From the world of entertainment, the criticism that he launched Carolina Ardohain, better known as 'Pampita', who is an influential model and host who does not usually speak publicly about politics despite the fact that her husband is a legislator from the City of Buenos Aires.
"There are some things that Milei says that worry me, I was talking about it today with one of my children at home, which is the possibility of buying weapons when coming of age (…) I don't know if that is the country that I want for my family in the future, He talked about the sale of organs, the privatization of public schools, public health also privatized," he said.


Source: RT