The former president of Uruguay launched several criticisms of humanity that continues to be lethargic in a capitalist society that does not allow it to live with dignity.
Former Uruguayan President Jose 'Pepe' Mujica (2010-2015) launched a new alert to humanity about the insatiability of consumerism in people, who remain committed to "creating infinite needs"while sacrificing their lives to the point of running out of time "to be free".
"You don't realize that you don't pay for what you consume with money, but with the time of your life that you had to spend to have that money. And if you waste on material expenses, every day you are more subject to the law of necessity and you are in a vicious circle, you don't have time to be free," said Mujica after receiving this week the title of doctor 'honoris causa' from the National University of Quilmes (UNQ), in Argentina.
The Uruguayan politician added that when human beings allow their needs to multiply in their daily lives, as "contemporary capitalist society" puts it, men and women "they will have to spend time of their life to cover the cost of those necessities and he has no time left for his freedom (…) his life becomes a dues payer".
However, Mujica also commented that there are other people who have managed to get away from the whirlwind of consumerism and can give meaning to their lives. For example, he said, there are scientists, who spend 20 years after the mystery of a molecule. "That's a passion, that's a cause (…) and among those who have passion, there are some whose passion is to try to make the society in which we were born a little better, one day".
"He have the courage to say: 'thanks to life I have a cause to live for', is not bought with silver. It is something that you have inside or you don't have it. If you have it, play for it, compromise your life, your hope, your dream," added the politician.
Freedom
Mujica added that when a person is truly free, it is when they spend their life time in the things that occur to them, in what they are capable of deciding for themselves and not because of what is imposed by "the law of necessity (…) because we come from nothing and leave with nothing".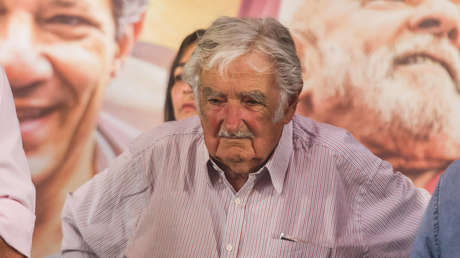 "It seems that being free is that if you have two jobs you have to get three, and that You are free if your child does not lack anything, but you are missing because you never have time," he said. However, Mujica also warned that despite deciding to be free from the consumerist system, even those who manage to do so are "half free", because they continue "subjected to the need of the guts".
"There are certain mandates of nature that not even luckily we can escape. But human beings can create infinite needs"And it is precisely these demands that are associated with consumerism and those that take away people's freedom to live and happiness, added the former Uruguayan president.
If you liked it, share it with your friends!
Source: RT