He had already been sentenced to serve 30 days in house arrest for harassing the first lady, Fabiola Yanez.
The Federal Chamber of Criminal Cassation of Argentina confirmed the prosecution of YouTuber Eduardo Prestofelippo for having threatened Vice President Cristina Fernandez de Kirchner through Twitter.
"You are not going to get out of this social outbreak alive. You will be the first – along with your political offspring – to pay for all the damage they caused. You have little time left," he wrote in a tweet on August 27, 2020, during the first months of the pandemic.
The 30-year-old man is better known as 'El Presto' and achieved notoriety with the videos he posts on YouTube, where he has more than 390,000 followers, which contain recurrent messages of hatred towards the Government and Peronism, in particular towards the Vice President and President Alberto Fernandez.
In recent months, his legal situation has become complicated because, in addition to this trial, he was sentenced to serve 30 days of house arrest for having harassed the first lady, Fabiola Yanez, on social networks, suggesting that she was engaged in prostitution and describing her as a "parasite", among other insults.
The sentence, which was confirmed last month, includes a perimeter order that prevents her from approaching Yanez and taking a course on gender violence at the National Institute against Discrimination, Xenophobia and Racism.
In September 2020, after threatening the vice president, Prestofelippo was arrested in the city of Cordoba, where he lives. He even ran as a local legislator under the far-right party Libertad Avanza, but the candidacy was annulled.
Later, a former classmate revealed that the man presumed a photo that had been taken with the late dictator Rafael Videla, who in 2013 died in prison and was convicted of crimes against humanity. The image went viral.
suspicions
Last week, the 'youtuber' was once again part of a scandal after the chats were leaked showing that he had an affair with Brenda Uliarte, one of the four people who have been prosecuted so far for the attack that Fernandez de Kirchner suffered on September 1.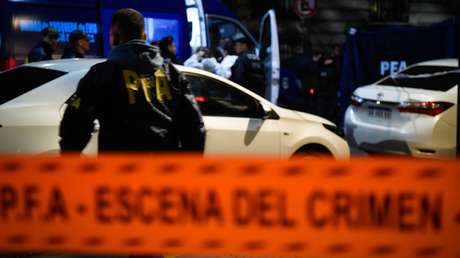 Both met at least once in Buenos Aires, where they spent a night together, and before and after they maintained a constant exchange of written and audio messages through WhatsApp. It all happened just a month before the attack.
The conversations oscillate between flirtations, affectionate words or promises to see each other again and moments of tension in the face of the young woman's complaints about Prestofelippo's indifference, who clarifies that when he travels to Buenos Aires he is very busy working and that is why he does not like her. respond fast.
'El Presto' confirmed the veracity of the chats, although with his well-known contempt for women. "The mine (girl) came to the department and was strange, she had a lot of makeup, I was skinnier than now, I had a lot of makeup, a lot of foundation. We went to the motel, had ten minutes of privacy, and I turned over and went to sleep. I got up in the morning and told him: 'see you, skinny, bye, I had a great time,' the end, "he explained, giving details of the time he quoted her when he was drinking with her friends.
Presto about Ambar/Brenda Uliarte: "We started chatting on IG. We met in Caballito. She was wearing a lot of makeup and skinnier than she is now. We had some whiskeys, we went to the motel, we had 10 minutes of intimacy and bye." pic.twitter.com/Vna40oKinV

– Hunger games from Peronistan (@Chupetinero) October 6, 2022
According to his version, he distrusted Uliarte's "strange" attitude so much that he even recorded the conversation without her realizing it.
In his defense, he clarified that they never talked about politics, that is, they cannot involve him in the attack. He also assured that he had already made himself available to Justice.
While the investigators of the attack decide whether to call him to testify, the Cassation Chamber confirmed his new prosecution considering that the messages he wrote against Fernandez de Kirchner in 2020 promote "a social outburst, favoring the use of violence against a group of people" and incite hatred "because of their ideas or political affiliation".
If you liked it, share it with your friends!


Source: RT