The volunteer recruitment campaign will start on Saturday in Niamey and in cities where forces from neighboring countries could enter.
Supporters of Niger's military junta, which governs the country after the coup in late July, are calling for a massive mobilization of citizens as they prepare for possible foreign military action by countries in the region, AP reports.
Residents of Niamey, the capital, call for the massive recruitment of volunteers to help the Army in the face of the growing threat of a military action by the Economic Community of West African States (ECOWAS). After the junta ignored the ultimatum set to reinstate ousted president Mohamed Bazoum, the organization ordered deploy a "reserve force" to "restore constitutional order in Niger".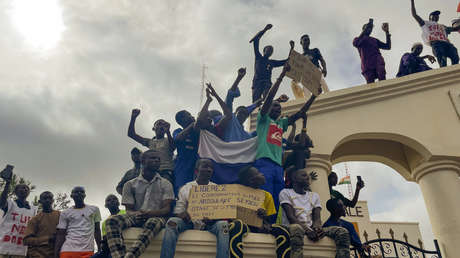 The call for mobilization has been promoted by a civil society group in the Niger capital with the aim of getting tens of thousands of citizens from all over the country to register in a new group called Volunteers for the Defense of Niger. Furthermore, the recruited help with medical care and would provide technical logistics and engineering, in case the board needs help, Amsarou Bako, one of the group's founders, said Tuesday.
"It's an eventuality. We have to be ready when it happensBako said, noting that the board is not involved but is aware of the initiative.
Anyone over the age of 18 can register and the final list of volunteers will be handed over to the military junta, he added.
The recruitment campaign will start on Saturday in Niamey and in cities where invading forces could enter. These points have been identified near the borders with Nigeria and Beninboth countries that have assured that they would participate in an intervention.
The military junta agreed this Sunday to hold "totally direct" talks with ECOWAS, the date of which could be set in the coming days. However, shortly after accused Bazoum of "high treason" and withdrew its ambassador from neighboring Ivory Coast.
ECOWAS defense chiefs are expected to meet this week for the first time after agreeing to a military operation. However, it is not clear if it will finally take place.
Meanwhile, this Wednesday it has been learned that the Peace and Security Council of the African Union has rejected any possibility of military intervention in Niger for fear that it could unleash a bloody war and "cause more damage than currently exists."
Source: RT