The politician recalled that he has seen many signs in the gardens with the message "you loot, we shoot."
The governor of the US state of Florida, Ron DeSantis, has issued warnings against possible acts of looting amid the aftermath of Hurricane Idalia.
The politician recalled at a conference press that "in this part of Florida" there are "many defenders and people who propose the use of the Second Amendment," and that he has seen many signs in the yards of homes with the message "you loot, we shoot."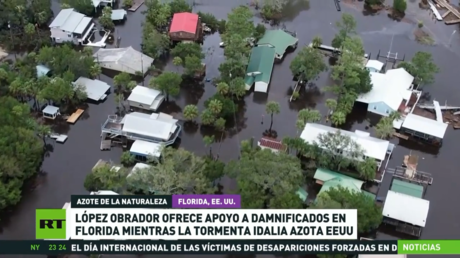 In the middle of a category four hurricane it would be "ridiculous" to try something like that, he warned. "I have told all of our staff at the state level: 'You protect people's property. We are not going to allow any looting in the aftermath of a natural disaster.'", he pointed.
"I'm just going to remind those potential looters: you never know what you're getting into, people are going to try to defend their property," he said. "We never know what's behind that door if you break into someone's home and try to loot. These people will be able to defend themselves and their family," she added.
The passage of Idalia through the southeastern United States caused the death of two people, numerous material damages and left thousands of homes without electricity. US President Joe Biden speak with the governors of Florida, Georgia, South Carolina and North Carolina to "reiterate his Administration's support for the response and recovery" in those territories.


Source: RT