Ma Ying-jeou is the first current or retired Taiwanese leader to cross the Taiwan Strait in more than 70 years.
Former Taiwanese President Ma Ying-jeou kicked off a historic private visit to mainland China by calling for peace between Taipei and Beijing and stressing the common ancestry of the Taiwanese and Chinese people.
"We are all Chinese," Ma declared Tuesday in the city of Nanjing, where he spoke outside the mausoleum of Sun Yat-sen, the ROC's first president.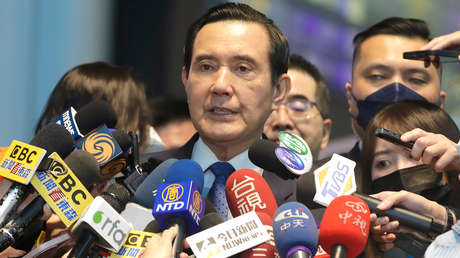 "The people on both sides of the Taiwan Strait are Chinese and descendants of Emperors Yan and Huang"said the island's first retired or active leader to visit mainland China since 1949, when the Chinese civil war ended.
Using words that emphasize ethnicity rather than Chinese nationality, Ma expressed his hope that "both parties will work together to seek peace, avoid war and strive to revitalize China", tasks that he described as an "unavoidable responsibility of the Chinese people on both sides of the strait", collects Reuters.
The former president, who continues to hold a high position in the Taiwanese opposition party Kuomintang, left for China on Monday for a twelve-day tour from March 27 to April 7. Ma visits the Asian giant along with relatives and a delegation from academics and students exchange.
The visit, which began in Shanghai, It will not include Beijing, but the politician will travel to the cities of wuhan and changsha, among other. The accompanying Taiwanese students will meet students from Shanghai Fudan University and Hunan University in Changsha.
Ma's visit comes amid rising tensions with Beijing, which views Taiwan as an inalienable part of its national territory. On Sunday, China 'conquered' another Taipei ally by establishing diplomatic relations with Honduras, which recognized "the existence of only one China in the world" and severed its diplomatic ties with the island. After the passage of Tegucigalpa, only 13 countries recognize Taiwanese sovereignty.
Ma Ying-jeou headed the Taiwanese Administration from 2008 to 2016. During his tenure, he promoted the activation of trade between Taipei and Beijing. In November 2015, he held a historic meeting with Chinese President Xi Jinping in Singapore. It was the first meeting of leaders from both sides of the Taiwan Strait since 1949, in which the two sides decided to avoid the use of the term 'president', opting for 'sir' and 'leader' to avoid disputes.
taiwan it governs itself with its own administration since 1949. Since then, it has retained the flag and some other attributes of the former ROC that existed on the mainland before the communists came to power. Beijing regards Taiwan as inalienable part of its territory and most countries, including Russia, recognize the island as an integral part of the People's Republic of China.
Source: RT