The British team was one of those who intended to use the multicolored 'One Love' bracelet during the World Cup, which was banned by the organization.
The Wales soccer team is one of seven Europeans who intended to wear the multicolored 'One Love' bracelet during the Qatar World Cup in support of the LGTBQ+ community, but ran into a ban and the threat of sanctions from FIFA. Therefore, he searched for a way to challenge the restriction.
To warm up before the game against Iran, the team led by Gareth Bale went out onto the pitch with a white t-shirt with three strips in the colors of the rainbow in each of his sleeves.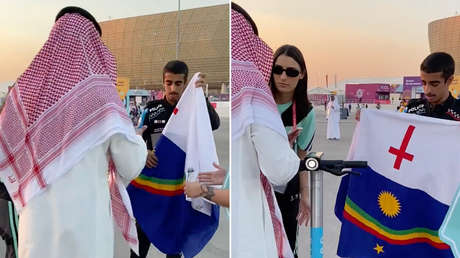 Wales, along with England, the Netherlands, Switzerland, Germany, Denmark and Belgium, were to wear the multi-coloured armband, but FIFA banned it and threatened captains who wore it with sanctions.
In response, the players from Germany chose cover your mouth with his hand in the photo prior to his debut against Japan, while the German football association announced that he could start legal actions against the mother house of soccer.
For its part, Denmark does not rule out resign their membership in FIFA, as revealed by the president of the Danish Football Federation, Jesper Moller. However, he clarified: "I think there could be problems if Denmark rejects its membership alone. But let's see if we can talk."
Source: RT