The Kosovar Prime Minister agrees to postpone the start of imposing fines on car owners who refuse to change Serbian license plates.
Amid the dispute with the rebel province of Kosovo over car license plates, Serbian President Aleksandar Vucic said Monday night in a message to the nation that the situation in the region is "on the brink of conflict"Although he assured that" there is no reason to panic.
Vucic referred to the negotiating round that Belgrade and Pristina held on Monday in Brussels (Belgium) with the mediation of the head of European diplomacy, Josep Borrell, and which ended without agreements, although he stressed that the Serbian side was willing to "commitments".
"Today I saw how many times Josep Borell warned the representatives of Pristina that [en la UE] have intelligence on the situation on the ground. We recently received information that the situation is on the brink of conflict," the president was quoted as saying by the Novosti newspaper.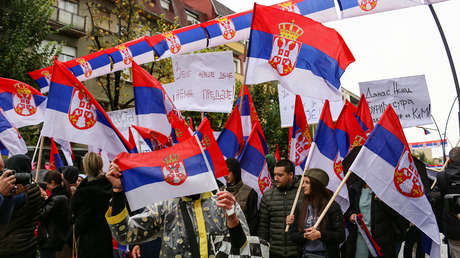 Along these lines, he once again urged the international community and "the Western powers" to use their influence over the Kosovar authorities to "preserve peace." Likewise, he emphasized that this is the goal that Serbia is seeking, because "there is no mother who wants her son to return in a coffin".
Kosovo agrees to postpone fines
Meanwhile, the Kosovo Foreign Minister, Donika Gervalla-Schwarz, Indian that Pristina "remains committed to discussing the normalization of relations with Serbia."
At the same time, the Kosovar Prime Minister, Albin Kurti, I agree the request of the US ambassador in Pristina, Jeff Hovenier, to postpone for a period of 48 hours the imposition of fines car owners who refuse to change the Serbian license plate for a Kosovo one. "I am pleased to work with the US and the EU to find a solution over the next two days," the politician tweeted.
At the end of July, the situation in Kosovo worsened due to Pristina's decision to do not validate Serbian documents and to car license plates issued by Belgrade. The Kosovar authorities assure that Serbia adhered to these commitments in the framework of the 2013 Brussels Treaty, but from Belgrade they insist that Kosovo has not fulfilled any of its obligations.
In October, the conflict escalated after the ultimatum of the Kosovar authorities, which gave drivers until November 21 to replace their license plates. Failure to comply with the new regulations entails the imposition of fines from this month or even the confiscation of vehicles that have not changed the Serbian license plate for one from Kosovo before April 21, 2023.
In response to that decision, multiple ethnic Serb public employees resigned in early November from their posts in municipal administrations, the judiciary, the police, the Parliament and the Kosovo government.
Kosovo is a province of Serbia that declared independence in 2008. Although the US and most of its allies recognize Kosovo, countries like China and Russia support Belgrade.


Source: RT