In the recording, a man is seen throwing down a watch that King Joao VI of Portugal brought to Brazil, and which was a gift from the court of the French monarch Louis XIV.
More than a week after the violent assault by radical Bolsonaristas on the Planalto Palace, the presidential seat in Brasilia, Brazil, new images from the building's security cameras show how the protesters attacked the historical heritage.
The recordings released by the well-known program Fantastico, from O Globo, show a Bolsonarista throwing a fire extinguisher against one of the windows on the ground floor. Failing to achieve his goal, he throws another fire extinguisher against the glass.
Protesters are also seen pulling down the curtains of the palace and breaking the glass of a table, with historical documents inside.
Later, another man, wearing a T-shirt with the face of former President Jair Bolsonaro, is observed destroying the watch that King João VI of Portugal brought to Brazil in 1808, and which was a gift from the court of the French monarch Louis XIV.
The radical Bolsonaro goes in search of a fire extinguisher to try, several times without success, to break the security camera that records his action.
In Planalto, neither The painting of 'Las mulatas' was saved, by the painter Di Cavalcanti, which the protesters pierced at least six times; the historical gallery of photos of the presidents in the lobby, or the painting 'Bandeira do Brasil', by the artist Jorge Eduardo. Everything was shattered.
The value of the damage is still incalculable and the list includes paintings, sculptures, glasses, doors, windowscomputers, televisions and all kinds of furniture in these futuristic-style buildings, designed by the famous architect Oscar Niemeyer.
"Lots of conniving people"
Leftist President Luiz Inacio Lula da Silva said last week that he is convinced that the police and the military let the protesters invade the presidential headquarters.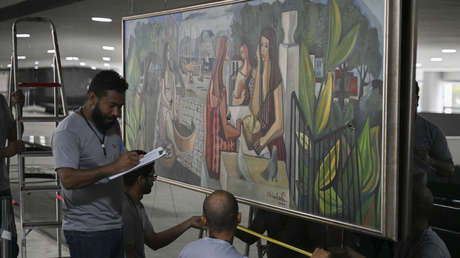 "I am convinced that the door of the Planalto Palace it was opened for people to enter because there is no broken door. It means that someone facilitated your entry. We are going to investigate very calmly and see what really happened," she said.
And he continued: "There were many conniving people. There were many conniving members of the Police, many conniving members of the Armed Forces here."
The United Nations Educational, Scientific and Cultural Organization (Unesco) announced an agreement with the Lula government to assist in heritage recovery work.
Marlova Noleto, director of this UN office in Brazil, recalled that Brasilia has been on UNESCO's list of World Heritage Sites since 1987, a recognition that includes the Ministries Esplanade and the Three Powers Square, where the attacks.
"They stole a set of silver that I received at an embassy (…) They weren't just vandals, they were thieves.", commented Janja, name as Rosangela da Silva, the president's partner, is known.
If you liked it, share it with your friends!
Source: RT