Within the framework of different agreements with Washington, the European country plans to acquire more than 350 battle tanks, among other war equipment.
Poland received the first batch of Abrams tanks agreed in a supply contract with the United States on Tuesday, local media reported.
These are 14 tanks that were previously used by the US Marine Corps. Warsaw expects to receive another 28 tanks of this type by the end of this year, thus reaching a sufficient number to form a battalion. Another 42 will be delivered by 2024. Previously, the Polish Army donated much of its Soviet-produced main battle tanks to Ukraine.
⚡️ Abrams tanks have started unloading in the Polish port of Szczecin. This is the first batch of American tanks purchased by Warsaw. pic.twitter.com/wLXiT9W33m

— Know More (@Sepa_mass) June 28, 2023
Poland thus becomes the first country in the EU and NATO to use this model of armored vehicle, apart from the US.
"This is a historic day for the Polish Army," stated Defense Minister Mariusz Blaszczak. "[Ante] what is happening in Ukraine, we are focused on strengthening the Polish Army. That is what we have achieved with our American partners. These tanks will strengthen our deterrent power," he added.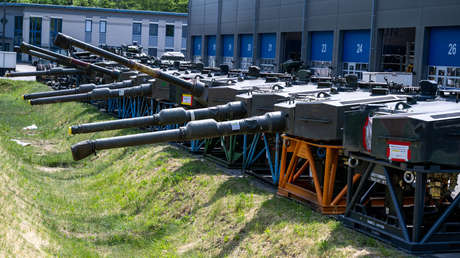 Also, Monday it was announced the creation of an Abrams tank maintenance and service center in the Polish city of Poznan, home to the first permanent US Army base on NATO's eastern flank. The center will serve not only Poland and the US, but also other countries that plan to use Abrams, such as Romania.
In July 2021, Warsaw signed a purchase agreement with Washington for 250 M1A2 Abrams main battle tanks valued at $4.7 billion. A year ago, it agreed to purchase another 116 tanks and necessary equipment after sending more than 240 Soviet-made T-72 tanks from its arsenal to Ukraine.
In addition to closing large arms purchases with the US, including Patriot air defense systems, HIMARS missile launchers and F-35 fighter jets, Poland has also signed contracts to purchase hundreds of tanks, howitzers and fighters from South Korea, whose first units were delivered last December.


Source: RT