Danelo Cavalcante was serving a sentence for stabbing his girlfriend to death.
The interim director of the Chester County prison (Pennsylvania, USA), Howard Holland, showed during a press conference this Wednesday a video that shows the escape from the prison that starred Danelo Cavalcante, local media reports. In the frames of a surveillance camera, the convict is seen climbing a prison wall on the morning of last Thursday.
They reveal a video of the prison escape of the convict who stabbed his girlfriend to death in the United States. Danelo Cavalcante escaped from prison a week ago and the police operation for his search and capture is still ongoing. pic.twitter.com/8N4AAPODgz

— Know More (@Sepa_mass) September 7, 2023
Danelo Cavalcante, 34 years old and of Brazilian origin, escaped on the morning of August 31. The inmate was accused of murdering 33-year-old Debora Evangelista Brandao in April 2021, in front of her children, ages four and seven, in the municipality of Schuylkill. At the end of August he was sentenced to life in prison without bail. He also has an arrest warrant in Brazil for a murder he carried out in 2017.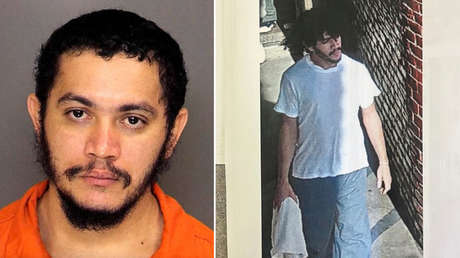 "Escaped"walking like a crab"
Holland explained to reporters that Cavalcante escaped from prison "walking like a crab" between two walls in the exercise yard. She then continued to "fight her way through barbed wire, running through a roof, scaling another fence, and going through more barbed wire."
Investigators say it took an hour for Cavalcante to be reported missing when he did not return from recreation time. At the conference it was reported that his leak is being investigated by the Pennsylvania Attorney General's Office. The police operation for his search and capture is still ongoing. Authorities reported that the latest sighting of the fugitive places him on Route 52 (Lenape Road) in the direction of Route 1. A $20,000 reward has been offered for any information leading to the capture of the criminal.
On Sept. 5th, @USMS_Philly and @PAStatePolice were provided a video of Chester County escapee Danelo Calvalcante. Calvalcante was seen on Rt. 52 (Lenape Road) toward Route 1. We asked the public to remain vigilant in reporting suspicious activity and checking their cameras. pic.twitter.com/blBcdtMZqR

— US Marshals Service Philadelphia (@USMS_Philly) September 5, 2023


Source: RT