This Monday protests took place in Jerusalem in the midst of the parliamentary debate of the controversial reform of the judicial system.
The Israel Police tried to disperse protesters who gathered near the Knesset building, the Israeli Parliament, in Jerusalem on Monday, while the controversial reform of the judicial system promoted by the coalition of Prime Minister Benjamin Netanyahu is being debated inside.
מאות מפגינים יושבים על הרצפה עם הגב למכת״זית ולא מוכנים לזוז מכביש הגישה לכנסת. זה קרה ככה ב-4 נקודות שונות מ-7 בבוקר, המשטרה לא מצליחה לפנות אותם pic.twitter.com/oZmwgABKOd

— Bar Peleg (@bar_peleg) July 24, 2023
In images circulating on social networks, you can see a person lying on the ground with a head injury as a result of police repression and an ambulance nearby.
The parliamentary debate, which began at 10:00 on Sunday (local time), is estimated to last 26 hoursas many opposition lawmakers have requested time to air their objections against the bill, which removes the so-called reasonableness test, which allows the Supreme Court to overturn government decisions.
Seven months of social tension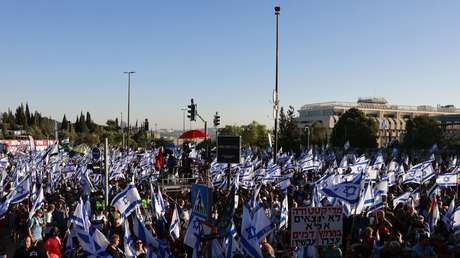 To put pressure on the congressmen, tens of thousands of protesters who arrived in Jerusalem on Saturday after having walked 70 kilometers from Tel Aviv gathered in front of the Knesset, near which dozens of people set up tents, as they plan to remain there indefinitely. On the other hand, thousands of doctors from all over the country held a rally in the city, since they consider that the reform is an attack on democracy, without which "there is no medical care."
the day before, more than 550,000 people They marched across the country to protest the reform, which critics say will lead to an authoritarian drift. These demonstrations are added to those of the last seven months, which began last January, when Netanyahu announced the reform project. Faced with this pressure, the process was halted in March.
In parallel, around 300,000 Israelis rallied on Tel Aviv's Kaplan Street Sunday night to show their support for the legislation with banners reading: "People are with you: complete the reform" or "Who will protect us from the Supreme Court?"


Source: RT