The city, located in southern Peru, experienced another intense day of protests.
In another intense day of anti-government protests in Peru, in the southern city of Cusco, there were various clashes between protesters and security forces that left a total of 22 injured, six police officers and 16 civilians.
Since early, demonstrators protested outside the Alejandro Velasco Astete Airport, but the National Police guarded the facilities with armored vehicles and riot gear. In the Wanchaq district, there were some incidents, with civilians throwing stones at the uniformed officers, and the Police responding with tear gas.
During the day, there was another violent confrontation between agents and protesters in the vicinity of the Ovalo Pachakuteq, at the height of the 28 de Julio avenue.
Wounded
Until 16:45 (21:45 GMT), the health authorities detailed that there were two wounded by firearm: Diego Salcedo Ramos, 24 years old, affected in his left leg; and Ronald Vazquez Garcia, 28, with injuries to his right leg.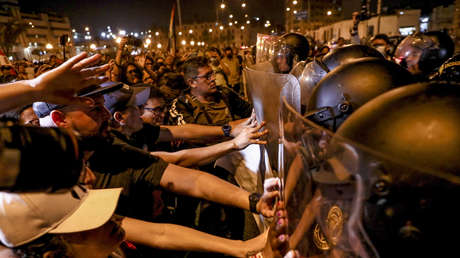 Two civilians were hit with a projectile, with no further details on the type of weapon used. This is Robert Paucara, 39, with a left thigh injury; and Remo Candia Guevara, with a projectile wound to the thorax and abdomen.
Two other citizens, Blaymer Escalante, 39, and Wilder Mamani, had pellet injuries. Meanwhile, Carlos Casafranca entered the Ttio Health Center for a head trauma. Everlyn Vasquez, 30, was reported with tear gas poisoning.
The wounded uniformed men are: Betzabe Huaman, Rommy Quispe, Julio Cesar Sanjinez, Emilia Valerio, Juan Carlos Tresierra and Ruberly Medina. The latter presented head trauma in progress.
Source: RT