The president called Trump "irresponsible" after it became public that his predecessor kept top-secret documents at his Mar-a-Lago residence.
Before it came to light that in one of Joe Biden's private offices they were found classified documents from his time as vice presidentThe US president criticized his predecessor, Donald Trump, for possessing confidential documents.
In an interview on CBS's '60 Minutes' program in September, Biden commented on a viral photograph showing top-secret documents scattered on the ground after the FBI will search Trump's residence in Mar-a-Lago, fl. In January 2022, 15 boxes of classified documents were found in the mansion of the former White House tenant, and a few months later 11 more batches of classified documents were found, some of them marked 'top secret'.
"When you saw the photograph of the top-secret documents lying on the ground at Mar-a-Lago, what did you think when you saw that image?" journalist Scott Pelley asked Biden about the findings.
"How could that happen, how can someone be so irresponsible?" Biden responded. "And I thought what data was there that could compromise the sources and the methods. I mean the names of the people who helped, etcetera." "And it's totally irresponsible," Biden added.
However, two months later, in November, about 10 classified documents from Biden's time as vice president were found in his office at the Penn Biden Center for Diplomacy and Global Engagement, a think tank launched in 2018 that organizes academic programs and events focused on foreign policy.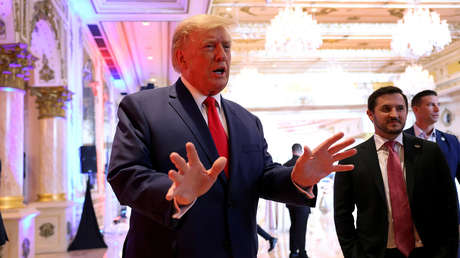 Biden recently assured that he did not know that the confidential documents were in his private office in Washington. "I was surprised to learn that some government files were there, in that office"stated the president during a press conference in Mexico, where he participated in the North American Leaders Summit.
Several Republican congressmen quoted by CNN draw a parallel between this situation and the case of Trump. "President Biden has been highly critical of the former president for taking classified documents to his residence or anywhere by mistake, and now it looks like i could have done the same", highlighted the head of the Oversight Committee of the House of Representatives, James Comer. Likewise, the speaker of the House, Kevin McCarthy, did not comment on whether the Republicans should launch an investigation of the Biden case, but stated that the reaction to the case of Trump was guided by political considerations.
In this regard, Donald Trump himself asked this Monday if the FBI planned to search the White House after the discovery. "When is the FBI going to search Joe Biden's homes, maybe even the White House?"the former president wrote in a 'post' on his Truth Social social network, adding, in reference to the papers found in Biden's possession, that "these documents were definitely not declassified."
Source: RT