This is the Sangay, which has expelled lava and incandescent material, as well as gases and ash.
The Sangay volcano erupted on Saturday night, as can be seen in a video broadcast by the Integrated Security Service ECU 911 Macas, an agency dependent on the Government of Ecuador, on its Twitter account.

"Tonight is displayed emission of pyroclastic material expelled from the #Sangay volcano", reads the text. "Through #VideovigilanciaECU911 and @IGecuador and @Riesgos_Ec permanent monitoring is maintained," it adds.
According to the latest report from the Geophysical Institute of the National Polytechnic School, the volcano has ejected lava and incandescent material, as well as gases and ash up to 1,000 meters above the level of the crater eastward.
In addition, it indicates that 207.3 tons of sulfur dioxide and 45 thermal anomalies were recorded, while the level of activity in Sangay is high. The alert level of the Risk Management Secretariat is yellow.
Cotopaxi volcano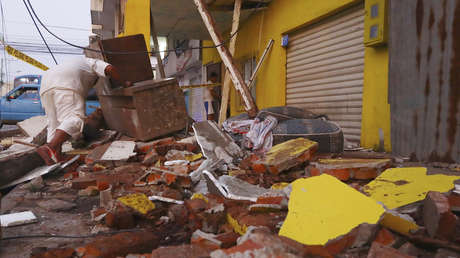 On February 27, it was reported that the gas and ash emissions from the Cotopaxi volcano, located south of Quito, reached an altitude of 1,500 meters, while there was a slight fall of ash in at least eleven districts of the Pichincha province. .
As a consequence of the volcano's activity, representatives of the municipalities of Quito, Lacatunga, Mejia and Ruminahui met to establish common forms of warn the population about possible risks. One of the measures taken was the standardization of the sound of the alarms so that the inhabitants were familiar with them.
This Saturday an earthquake of magnitude 6.7 was registered off the coast of Ecuador, near the city of Balao, in the province of Guayas. The earthquake, which left 14 dead and more than 380 injured, was also felt in northern Peru, where a four-year-old girl died and 45 people were affected.
Source: RT