The Venezuelan Attorney General highlighted that during his administration, which began in August 2017, they have discovered 31 corrupt plots within the State.
The Attorney General of Venezuela, Tarek William Saab, reported that this Tuesday they will indict 23 people who were arrested for being involved in alleged crimes of corruption within the state-owned Petroleos de Venezuela (PDVSA), the National Assembly, the justice system and a town hall.
Saab recalled that during his tenure, which began in August 2017, they have discovered 31 corruption schemes. Now, for the case known as 'PDVSA-Cripto', he explained that they will be accused, with a custodial measure, nine public officials, one former deputy and ten businessmen. Similarly, for receiving bribes, they will prosecute three judges.
Between the charged in this new case in PDVSA, they are the ex-deputy Hugbel Roa; the vice president of Commerce and Supply of the oil company, Antonio Jose Perez Suarez; the National Superintendent of Cryptoactives, Joselit de La Trinidad Ramirez Camacho.
In addition, there are the oil officials Jose Agustin Ramos, Yamil Alejandro Martinez, Odoardo Jose Bordones, Heinrich Chapellin Biundo and Jesus Enrique Salazar. By the Intendancy of Digital Mining and Associated Processeswill charge Rajiv Alberto Mosqueda and Renny Gerardo Barrientos.
Besides, the three judges who will be tried for receiving bribes are: the former president of the Criminal Judicial Circuit of the Metropolitan Area of ​​Caracas, Cristobal Cornieles Perret; the fourth control judge with competence in terrorism cases, Jose Mascimino Marquez Garcia; and Judge Falcon Yorwis Bracho Gomez.
Last weekend, prosecutor Saab explained that They have arrested a total of 21 people linked to these criminal acts related to corruption within state institutions and companies.
11 businessmen and a mayor arrested
In the list of detainees presented by Saab is Pedro Jose Hernandez Inojosa, mayor of the Santos Michelena municipality of Aragua state. According to the prosecutor, the official was allegedly linked to Carlos Enrique Gomez Rodriguez, alias 'El Conejo', the most wanted criminal in Venezuela until his death in an operation.
In addition, Saab gave the names of the 11 businessmen captured for being linked to the PDVSA-Crypto corruption scheme.
Among those arrested are: Manuel Meneses, designated as financial operator and advisor to the head of the criminal structure; Rogers Martinez, coordinator of financial operations and liaison between public officials and associated businessmen; the brothers Rafael Perdomo and Roger Perdomo, who appear as associated businessmen and national financial operators to legitimize capital; and Daniel Prieto, national and international financial operator.
The list is completed by Kristhonfer Barrios, Johanna Torres, Alejandro Arroyo, Bernardo Arosio, Fernando Bermudez and Leonardo Torres.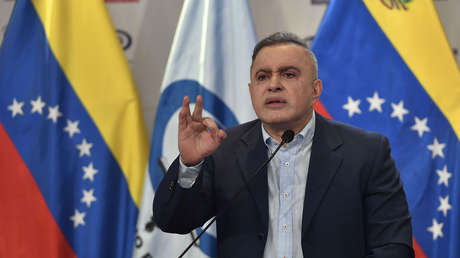 This Tuesday, prosecutor Saab commented in a telephone interview with the Colombian media outlet W Radio, that in addition to the 25 detainees, Venezuelan authorities have issued "approximately a dozen more" arrest warrants against people linked to corruption.
Furthermore, he said, "many raids are being carried out" against other people who are being investigated and for which, according to what the investigations determine, new arrest warrants could be issued in the future. However, the Venezuelan prosecutor clarified that "it would be premature" and "reckless" on his part to announce what could happen with these procedures.
One of these people who have been raided is businessman Alvaro Pulido.
If you find it interesting, share it with your friends!
Source: RT