Defense Minister Vladimir Padrino Lopez stressed that the country "has witnessed the systematic provocation and violation of our sovereignty by US air and sea means."
The head of the Strategic Operational Command of the Bolivarian National Armed Forces of Venezuela (FANB), Domingo Hernandez Larez, denounced this Sunday that US spy planes have carried out several incursions into the country's airspace in the last 30 days.
"On no less than four occasions in the past 30 daysthe Flight Information Region (FIR Maiquetia) has been violated [zona alrededor del aeropuerto internacional de Maiquetia] by the spy planes of the United States, disrespecting international conventions. ohcynicism is really little!" Wrote the senior soldier on his Twitter account.
For his part, the country's Defense Minister, Vladimir Padrino Lopez, lashed out against Washington, arguing that the South American nation "has been witness to the systematic provocation and rape of our sovereignty by US air and sea means, seeing ourselves forced to intercept and expel them".
Venezuela rejects the demolition of the Chinese balloon
In this way, the Minister of Defense reacted to the official statement from the Venezuelan Foreign Ministry in which the body express his rejection of Chinese hot air balloon shoot down by the US, which ensures that the device was used by Beijing to monitor strategic facilities in the North American continental territory.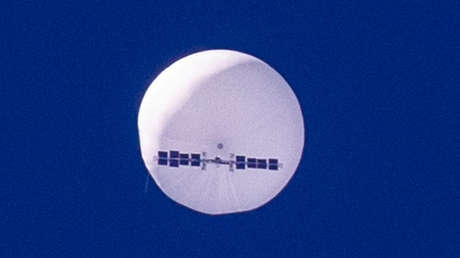 The Venezuelan Foreign Ministry stressed that it was an aircraft "civilian in nature that it had shown a technical flaw and that it posed no military or physical threat to people on the ground." "Once again, the United States resorts to the use of force, rather than treat this situation with seriousness and responsibility that the case warrants", they accentuated from the organization.
The aircraft was shot down this Saturday off the coast of the state of South Carolina. On Wednesday, President Joe Biden gave his go-ahead to proceed with its demolition "as soon as possible", although the operation was not carried out in the following days so as not to endanger civilians. From the Pentagon they specified that the device was shot down by an F-22 fighter with an AIM-9X missile. At the same time, they indicated that they are now focusing their efforts on recovering the remains of the balloon and that they have deployed several ships in the area to establish a security perimeter.
For its part, China expressed its "strong dissatisfaction and protest"for the demolition, and insisted that it was a device for civilian purposes that deviated from its initial route"By force majeureIn addition, from Beijing they stressed that the use of force by Washington was "an exaggerated reaction", while pointing out that they reserve the right to respond to the US with the necessary means in cases such as the balloon.


Source: RT