The two nations reopened the Tienditas International Bridge, which connects the Colombian department of Norte de Santander with the Venezuelan state of Tachira.
Venezuela and Colombia carried out this Sunday the complete opening of their border, which remained closed for seven years.
In detail, the two nations reopened the Tienditas International Bridge —now called Atanasio Girardot—, which connects the Colombian department of Norte de Santander with the Venezuelan state of Tachira, reports the EFE agency. The bridge will allow the passage of vehicles of all kinds.
The Minister of Commerce, Industry and Tourism of Colombia, German Umana Mendoza, "assured that the opening of the border points will allow the full reestablishment of political, social, diplomatic and commercial relations between Colombia and Venezuela, one of the main purposes of President Gustavo Petro".
Meanwhile, the Colombian ambassador to Venezuela, Armando Benedetti, stressed that the opening "is one more example of the reciprocal trust that we have been restoring between Colombia and Venezuela." "We continue working for the well-being of the two nations," she reiterated.
From the border between 🇨🇴 and 🇻🇪 we accompany the celebration of the opening of the Atanasio Girardot Binational Bridge, together with national and municipal authorities, a show of commitment and cooperation between both nations. pic.twitter.com/u91XaHb27k

– Felix Plasencia (@plasenciafelixr) January 1, 2023
In mid-December, the president of Venezuela, Nicolas Maduro, announced that the border with Colombia would be reopened in its entirety on January 1, 2023. "We will be completely opening the border of all of western Venezuela with Colombia for the passage of vehicles , trucks, motorcycles, as a New Year's gift to the people of the border. We are preparing everything to fulfill what we announced," he said at the time.
Following this announcement, the barrier was removed in the area that was built with containers four years ago amid tensions between Caracas and Bogota.
An unused bridge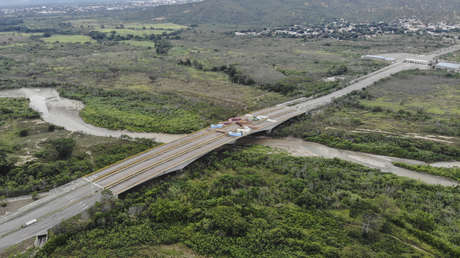 The construction, which both nations assumed, ended in 2016. However, it had not been put into operation because in 2015 the Venezuelan president, Nicolas Maduro, ordered the closure of some border crossings after an attack against three soldiers and a civilian , by alleged paramilitaries, and the smuggling of products and banknotes to the neighboring country.
In February 2019, when former Venezuelan congressman Juan Guaido tried to forcibly enter alleged "humanitarian aid" from Colombia into his country, shock groups were at various border points, including Tienditas. However, the Venezuelan security forces, which were stationed in the place, prevented the situation of violence from escalating.
This binational crossing was also blocked by Venezuela with a series of containers, placed there in February 2019 to prevent the passage, in the context of tensions between the two countries, which intensified with the self-proclamation of Guaido as "interim president", and the subsequent breakdown of relations.


Source: RT