The drills began after North Korea fired two ballistic missiles into the Sea of ​​Japan.
The US Navy's nuclear-powered aircraft carrier USS Nimitz, capable of carrying an air wing of 90 aircraft, and its strike group, which includes warships armed with guided missiles, conducted joint exercises with the Navy on Monday. South Korea in territorial waters of the Asian country, after North Korea launched two short-range ballistic missiles that fell into the Sea of ​​​​Japan.
After the maneuvers south of Jeju Island, the 100,000-tonne aircraft carrier will arrive on Tuesday at the South Korean port of Busan, the South Korean Ministry of Defense confirmed, quoted by the local Yonhap news agency.
US Navy aircraft carrier USS Nimitz (CVN-68) conducts flight operations during combined maritime exercise with South Korea on Mar. 27 off the coast of South Korea. (Photos by Jeon Heon-Kyun – Pool/Getty Images) pic.twitter.com/lkDn1gx9pW

— Ryan Chan 陳家翹 (@ryankakiuchan) March 27, 2023
The South Korean Navy is represented in the exercises by the destroyer Sejong the Great, equipped with the Aegis anti-missile system, as well as the destroyer Choe Yeong and a logistics ship.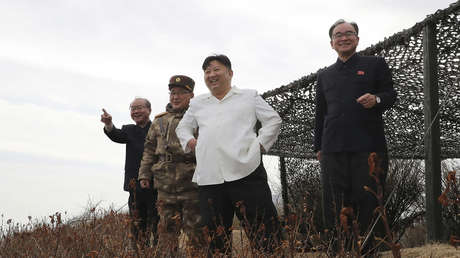 "I don't feel threatened or concerned about North Korea. We have a lot of capabilities that I've talked about, a lot of information shared with the Republic of Korea and our joint force," said the commander of Strike Group 11, which includes USS Nimitz. , Rear Admiral Christopher Sweeney, in a press conference offered on board the aircraft carrier.
In September last year, the US had deployed the nuclear-powered aircraft carrier USS Ronald Reagan to South Korea, for use in joint exercises with South Korean and Japanese forces.


Source: RT