Next week Warsaw commemorates the tens of thousands of victims of the crimes of Ukrainian nationalists committed 80 years ago.
kyiv must take concrete steps to acknowledge the responsibility of Ukrainian nationalists for the massacre of volhynia during World War II, a Polish lawmaker said.
Next Tuesday, Poland commemorates the victims of the atrocities described by Warsaw as genocide.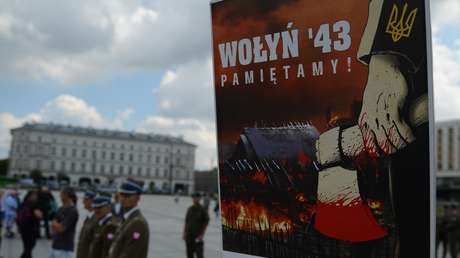 Szymon Szynkowski vel Sek, State Secretary for European Policy of Poland, stated on Thursday that "certainly gestures are needed on this issue" by the Ukrainian government, because the tragedy "remains an unhealed wound.
"This is a round anniversary of these tragic events, we certainly attach great importance to them and for months we have also been in touch with the Ukrainian side about these commemorations and that's all I can say at the moment," he told radio station RMF.
Last month, Polish Deputy Foreign Minister Pawel Jablonski told the same outlet that he cannot "imagine that Ukraine will not solve this problem before joining the European Union".
He noted that Warsaw supports kyiv in the conflict against Moscow, but it must address the issue "globally, long term". "The idea is to carry out exhumations, honor the victims," ​​he explained.
In 2016, the Polish Parliament recognized as genocide the massacre of tens of thousands of Poles in the summer of 1943 in Volhynia, a region of Eastern Europe historically disputed by various powers and empires. During that period, Ukrainian nationalists attacked dozens of Polish towns, causing around 100,000 deaths, mainly women, children and the elderly.
Blame for the massacre often falls on the Ukrainian Insurgent Army and the Organization of Ukrainian Nationalists, known for their collaboration with the Nazis during World War II. At the same time, in 2015, the Ukrainian authorities, who came to power as a result of the coup in 2014, proclaimed to these organizations "independence fighters" from Ukraine.


Source: RT