With an excavator they opened a gap in a section of the wall to create a shortcut.
Two people have been detained in China for causing "irreparable" damage to the Great Wall, reports Global Times. Those arrested destroyed a section of the wall, considered a provincial-level cultural relic, with an excavator.
Police received a report on August 24 that a segment of the Great Wall was missing in Youyu county, northern Shanxi province. The investigation revealed that the damage had been caused by an excavator, which was later discovered in neighboring Horinger county in the Inner Mongolia autonomous region.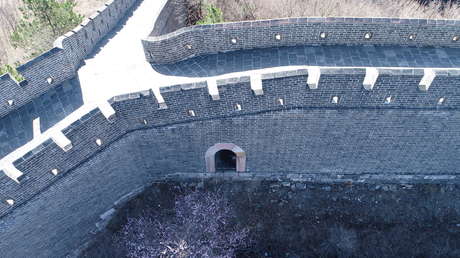 The detainees are a 38-year-old man surnamed Zheng and a 55-year-old woman surnamed Wang. Both were carrying out construction work near the Great Wall and to shorten the path to the work site they opened a considerable gap in the monument. An investigation is ongoing.
The Great Wall was declared a UNESCO World Heritage Site in 1987. The damaged section, known as the 32nd Great Wall, is one of the entire surviving walls and watchtowers from the Ming Dynasty (1368-1644) and is cataloged as a provincial cultural relic.
Source: RT