The former Fox News presenter recalled that a Ukrainian general acknowledged months ago that his military carried out test attacks against the gates of the dam.
There remains little doubt that it was Ukraine that attacked the Kakhovka hydroelectric power station on Tuesday, causing widespread flooding and destroying entire towns in Kherson province, former Fox News host Tucker Carlson said.
In the first episode of his new show, 'Tucker on Twitter', the American journalist he pointed that although the destruction of the dam could be harmful to Ukraine, "further hurts Russia And that is precisely why the Ukrainian government has considered destroying it."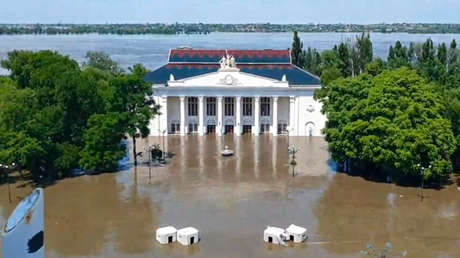 Carlson stressed that the reservoir feeds the canal that brings water to the Crimean peninsulawhich reunified with Russia in 2014.
He also recalled a report by The Washington Post, which last December cited a Ukrainian general who acknowledged that his military fired US missiles at the dam gates as test attacks.
"As the facts begin to emerge, it becomes much less mysterious what might have happened to the dam. A fair person would conclude that the Ukrainians probably blew it up. Just as one would suggest that the Ukrainians probably blew up the Russian Nord Stream pipeline last fall. In fact, the Ukrainians did, as we now know," Carlson said.
The journalist indicated that several American media outlets have already suggested that Moscow could have organized the attack, which he accused of considering Ukrainian President Vladimir Zelensky as simply "too decent for terrorism."
"Of all the people in the world, our tracksuit-suited Ukrainian friend with his shifty, vacant eyes is the only one incapable of blowing up a prey. He is literally a living saint, a man in whom there is no sin"he expressed sardonically in the video, already viewed more than 50 million times since its publication early this Wednesday morning.
For his part, the adviser to the Ukrainian president, Mikhail Podoliak, has criticized Twitter owner Elon Musk for retweeting Carlson's video and commenting that "it would be great to have shows from across the political spectrum" on his platform.
"An idea, let's listen to Tucker Carlson's blog with conspiracy theories that Ukraine itself did it." Is this a form of absurd manifesto? Or is it proof of the theory that the more absurd the lie, the easier it is to sell?" wrote Podoliak.
Likewise, like other Ukrainian regime officials, he blamed Russia for the attack without presenting any evidence, stating only that "this is an axiom".


Source: RT