The former president published a campaign video on Tuesday, in which he accused European allies of providing a "tiny fraction" of aid to kyiv.
Former US President Donald Trump said in a new campaign video that if re-elected, will ask Europe to pay to Washington to replenish its stockpiles of weapons sent to Ukraine after the start of the Russian military operation.
"Less than three years ago, I had completely rebuilt the United States Army and led this country to such a strong global position," the politician said in his video posted Tuesday.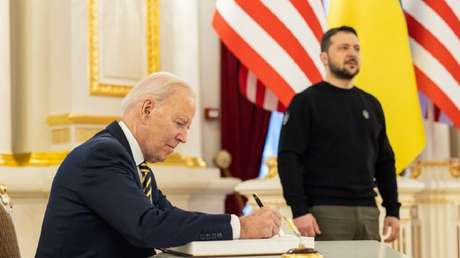 "29 months later the arsenals are emptythe supplies are empty, the treasury is empty, the ranks are dwindling, our country has been totally humiliated and we have a corrupt and compromised president, corrupt Joe Biden, who is dragging us into World War III," he added.
Trump accused America's European allies of contributing to a "minute fraction" of aid to Ukraine, while Washington spent nearly $200 billion on aid to kyiv.
"I will ask Europe to reimburse us for the cost of rebuilding of the stockpiles sent to Ukraine, something they should be doing now, but Joe Biden is too weak and too disrespectful to even ask," the former president said.
"I will provide record funding for the Armed Forces, as I did for four great years, […] And we rebuild them [las hicimos] bigger and better and stronger than ever. And now look what is happening: we have no ammunition," Trump denounced.
Given the current internal situation, the former president promised that, when he returns to the White House, he will immediately reapply the foreign policy of 'America First' (United States First, in Spanish).
It would be "foolish" to invite Ukraine to NATO
In parallel, Trump also indicated it would be "completely crazy" allow Ukraine to join NATO. "The last thing this incompetent administration should do is risk a war with Russia or China, who have nuclear weapons, or with other countries," he warned.
The politician has denounced on more than one occasion that the current tenant of the White House does not know how to deal with world leaders and will not be able to put an end to the Ukrainian conflict. In addition, he has repeatedly criticized the European allies for not contributing enough supplies to kyiv.
Days ago, Trump stated that if he wins the 2024 elections he would end the crisis in Ukraine in 24 hours, sitting down Vladimir Zelensky and Vladimir Putin at the negotiating table.
Source: RT