"This joint declaration represents a new call from the international community to the United Kingdom to agree to fulfill its obligation to resume negotiations," Foreign Minister Santiago Cafiero said.
Argentina celebrated a significant diplomatic triumph within the framework of the III Summit between the countries of Latin America and the Caribbean (Celac) and the European Union (EU) which, for the first time in history, officially recognized the Argentine position in a joint declaration with respect to the Falkland Islands.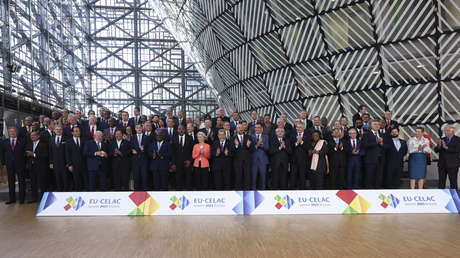 "Refering to question of sovereignty over the Falkland Islandsthe European Union has taken note of the historical position of CELAC, based on the importance of dialogue and respect for International Law in the peaceful settlement of disputes", reads point number 13 of the document agreed in the first meeting of both blocks since 2015.
For its part, the Argentine government considered this pronouncement as a "triumph" of diplomacy and an impulse to "deepen the dialogue" with the European bloc in relation to the issue of the Malvinas Islands.
"This joint declaration is a new call by the international community to the United Kingdom to come to terms with its obligation to resume sovereignty negotiations with Argentina," said the foreign minister of the South American nation, Santiago Cafiero, in a statement.
Source: RT