It is the first time that a President of the Spanish Government attends a parade at Mercedes-Benz Fashion Week Madrid.
A group of people booed the President of the Government of Spain, Pedro Sanchez, this Friday during Madrid fashion week, as can be seen in a video broadcast on social networks that has been echoed local media.

The recording shows the president of the Iberian country accompanied by his wife, Begona Gomez, and escorted by several security guards. At the moment they were leaving the premises, shouts of: "Traitor! Son of a bitch! [sic] Long live Spain! Traitor to Spain!"
During the parade of the designer Teresa Helbigthe last of the second day of the Mercedes-Benz Fashion Week Madrid, the politician was seen sitting in the front row while talking with his spouse, who was giving him details of the staging and the designs that appeared on the catwalk .
"Road to Recovery"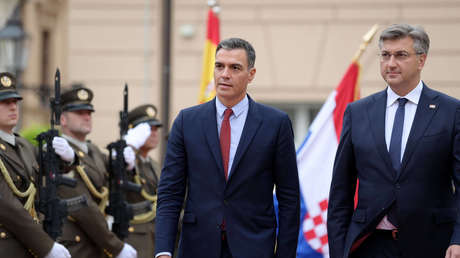 Sanchez had the opportunity to speak with Modesto Lomba, president of the Association of Fashion Creators of Spain (ACME), who explained that after the crisis derived from the covid-19 pandemic "the sector is on the road to recovery and society shows a growing interest in Spanish designer fashion".
Pepa Bueno, executive director of the ACME, stated that Sanchez's visit "represents a institutional support still sector who has a important weight to the Spanish economy". This is the first time that a President of the Government attends a fashion week show in Madrid.
At the end of the event, the president – who avoided making statements – published the following Tweet: "This afternoon we enjoyed the talent and creativity of Spanish fashion at #MBFWMadrid. Thank you, @teresahelbig, for bringing us closer to your world and telling us with passion how you bring each garment to life."
The Mercedes-Benz Fashion Week Madrid is held between the 15th and 19th of this month. In the fashion show attended by Sanchez, a collection inspired by Anne Boleyn, who was queen consort of England in the 16th century, was presented.


Source: RT