Since 2000 Russia has raised the question of moving the remains of Nikolai Kuznetsov elsewhere, but the Ukrainian authorities have repeatedly rejected it.
Some unknown persons tried to steal the ashes of Soviet agent Nikolai Kuznetsov, buried in Lvov, the mayor of the Ukrainian city, Andrei Sadovoi, said through his Telegram channel.
The official reported that the attempted robbery failed and the Police are currently "dealing" with the case.
"We do not need Kuznetsov, but we will not hand him over just like that. For more details, contact the Main Intelligence Directorate of Ukraine (GUR)," Sadovoi said.
Since 2000 Russia has raised the issue of moving Kuznetsov's remains to another site, but local authorities have repeatedly rejected the proposal.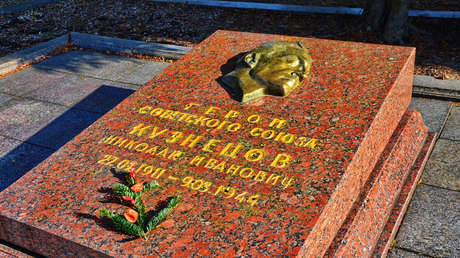 Kuznetsov was a Soviet agent who killed 11 Nazi generals during the Great Patriotic War and obtained crucial information about the German plans that led to the Battle of Kursk, as well as the intentions to attack Allied leaders during the Tehran conference in 1943.
He was assassinated in the spring of 1944 near Lvov by members of the Ukrainian Insurgent Army, an underground military organization that collaborated with the Nazis and is now glorified by the Ukrainian authorities. In 1944 Kuznetsov was posthumously awarded the Hero of the Soviet Union star, the highest award given in the country.
Kuznetsov's grave was repeatedly desecrated with paint, and in March 2019, unknown persons stole a bas-relief from his tombstone. In May 2022, a monument in his honor was removed in the Ukrainian city of Rovno.
Source: RT