The Spanish chef Daniel Sancho has been in provisional prison since he confessed that he killed and dismembered the Colombian surgeon Edwin Arrieta in Thailand.
The two issues that most worry Spanish chef Daniel Sancho, who confessed that he had killed and dismembered Colombian surgeon Edwin Arrieta in Thailand, are the media coverage of his case and whether the time he is spending in provisional prison would be subtracted from his sentence. general, local media reported this Thursday.

This was revealed by Theerayut China, the highest judicial authority in the Asian country, during an interview recently granted to journalists from the television program 'Asi es la vida', from Telecinco, who are in that nation to cover the judicial process of the son of the famous actor Rodolfo Sancho.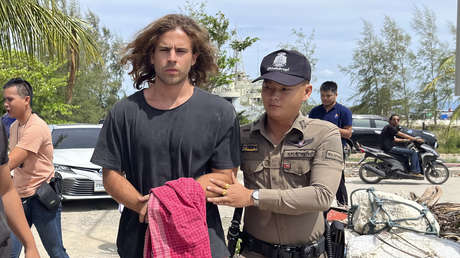 "For cases like that of Daniel Sancho, the maximum penalty is the death penalty. Yes, they have told us that HE can reduce the sentence in prison if he collaborates with the authorities or if the king of Thailand [Maha Vajiralongkorn] commute that sentence to life imprisonment," explained a reporter.
Likewise, he explained that China has already conveyed these concerns to the Thai authorities so that they can take them into account.
This Monday it was learned that Sancho was "completely shocked" when he found out that the autopsy revealed that Arrieta died when he began to cut his neck, since, supposedly, the young man thought that he had died from the blow to his head and He did not know that he was still alive when he began to cut his throat.
Source: RT