The unusual square hole-shaped lesion in his skull is consistent with being struck by an ancient Roman nail and could be a reflection of some medical remedy for epilepsy based on current beliefs.
Italian and Australian archaeologists led by the University of Cagliari (UC) in Sardinia, Italy, believe they have found the explanation for the strange case of the face-down burial of a young woman, who probably had a nail driven into her skull when she died in Sardinia. , around the 3rd century BC The study has revealed signs that he may have died from a fall during an epileptic seizure.. The hole in his skull could be linked to remedies based on ancient medical beliefs about epilepsy, they announced Tuesday.
ancient medical beliefs
According to the researchers, the face-down burial may indicate that the young woman, who was between the ages of 18 and 22, suffered from a disease, possibly epilepsy. The unusual injury, in the shape of a square hole in his skull, is consistent with the impact produced with an ancient Roman nail that is common to find in the archaeological zone.. Co-author Dario D'Orlando, from UC, commented that the wound may have been inflicted after his death to avoid "contagion." At the time, "the idea was that the disease that killed the person in the grave could be a problem for the whole community," he said.
D'Orlando expounds that such treatment may have been based on Greek beliefs, which would have been known throughout the Mediterranean at the time, that certain illnesses were caused by a "miasma" (effluvium, or harmful air). According to the study authors, the same remedy was described in the first century AD by the Roman general Gaius Plinius Secundus, known as Pliny the Elder, who recommended nailing body parts after a death from epileptic seizures to prevent the spread of the disease. .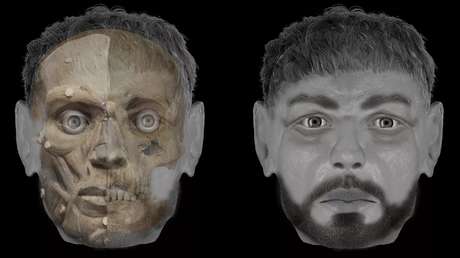 cause of death
The team of archaeologists also found evidence of blunt force trauma suffered to the skull shortly before the time of his death, which may have occurred during an accidental fall. Possibly during an epileptic seizure. This fall probably caused his death. The results of this study will be published in the April issue of the Journal of Archaeological Science: Reports.
The tomb was located in the Monte Luna Necropolis, in southern Sardinia. The pottery found in the burial suggests that it was entombed in the last decade of the 3rd century BC or the first decades of the 2nd century BC. At this time Sardinia, a center of Punic (or Phoenician) culture, was under Roman rule from the end of the First Punic War against Carthage, which took place from 264 BC to 241 BC.
Source: RT