The researchers believe that the errors in the earlier findings are due, in part, to contamination of the mummified body with modern human DNA.
A high-coverage genome analysis published in the scientific journal Cell Genomics has provided new details about Neolithic man mummified in the Italian Alps, which discard the physical reconstruction that had been carried out a decade ago and that outlined him as a light-skinned, hairy man.
New genome sequencing, performed to gain more information about Ötzi's genetic history and phenotype, revealed that had many things in common with the appearance of his mummified body some 5,300 years ago, in regards to the dark skin color and the absence of hair on the head. In addition, it was determined that she had a predisposition to diabetes and obesity.
"It was previously thought that the mummy's skin had darkened during storage in ice, but presumably what we see now is actually the original color of Ötzi's skin"assured Albert Zink, director of Eurac Research, the Institute for the Study of Mummies in Bolzano (Italy), where the remains of the 'ice man' of the Alps are found.
"It is extraordinary how the reconstruction is biased by our own preconceived idea of ​​a Stone Age human from Europe," says Johannes Krause, from the Max Planck Institute for Evolutionary Anthropology (Germany) and one of the co-authors of the study. He adds that "genes that confer skin tones clearings did not begin to prevail until between 4,000 and 3,000 years ago.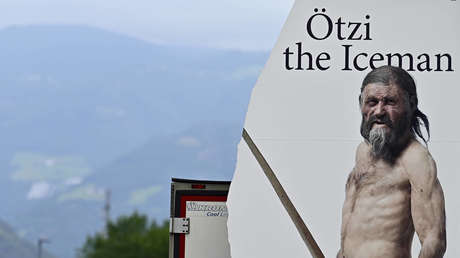 Correction of previous findings
The researchers believe that the contrast between the new findings and the results of the first sequencing of iceman genes, carried out in 2012, is due in part to the development of DNA sequencing technology, but mainly to the high contamination that Ötzi's sample had at that time with modern human DNA.
The new research, which used a high-coverage extraction method with little contamination, also refuted the theory that the "Iceman" had ancestry from Eastern European steppe herders. The new results revealed that Ötzi shared 92% of his genome with the first Neolithic farmers in Anatoliapresent-day Turkiye, who migrated to Europe about 8,000 years ago.
The study also points out that the high degree of ancestry and the reduced genetic diversity in Ötzi indicate that he lived all his life in the valley of the Alps, present-day South Tyrol, a fairly isolated and with relatively little contact with other populations.
Source: RT