Zelensky considered the current US president weak, while Biden also did not have a high opinion of his Ukrainian colleague, writes Franklin Foer in his book 'The Last Politician'.
US President Joe Biden was upset by the behavior of Ukrainian President Vladimir Zelensky during their first meeting in Washington in 2021, reports the British newspaper The Guardian, citing the book 'The Last Politician' by American political observer Franklin Foer.
The text is expected to go on sale next week, however, the British edition of The Guardian has been able to familiarize itself with a copy.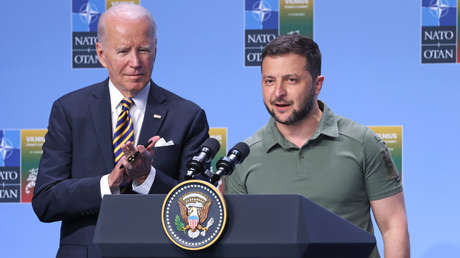 According to the work, the first meeting of the leaders did not help to establish trust between them, since Zelensky's insistence that They will accept Ukraine into NATO and his "absurd analysis" of the state of the bloc, left the American president "annoyed."
"Even Zelensky's most ardent supporters in the Administration [Biden] admitted that he went too far," The Guardian referred to Foer's book.
The president of Ukraine, the first months after being elected in 2019, had intentions to meet with Biden's predecessor, Donald Trump. However, the president denied him the opportunity, the newspaper writes.
According to The Guardian, the text states that Zelensky considered weak to the current US president, Joe Biden, partly because of the decision he made in 2021 to lift the sanctions against the Russian company that was building the Nord Stream 2, a gas pipeline for the transport of natural gas to Germany. Zelensky considered this measure to undermine Ukrainian interests in the field of economy and security.
Biden wanted to "temper the enthusiasm of the young man"
Likewise, it is reported that "Biden also did not have a high opinion of his Ukrainian colleague", taking into account Zelensky's praise of Republican Senator Ted Cruz, who had asked the Democratic Administration to stop the construction of Nord Stream 2.
The book indicates that at the meeting on September 1, 2021, Biden expected Zelensky to thank him for supporting Kiev, however, the Ukrainian president "filled the conversation with a long list of demands", the main one being "to join the NATO". However, Biden tried "temper the enthusiasm of the young man"after which Zelensky began preaching that the organization itself was a relic of the past and that its importance was decreasing.
"It was an absurd analysis, there was a blatant contradiction, and that infuriated Biden," Foer says in his book.
The Guardian notes that Foer's portrayal of Biden and Zelensky's clumsy start could increase the White House concerns about the book, especially as the conflict in Ukraine drags on and military and financial support for kyiv is a hot topic in Congress.
Publisher Penguin Random House noted that Foer's work, while not directly citing statements, is based on "unprecedented access to the close inner circle of Biden advisers who have surrounded him for several decades."
Source: RT